concert review
:
Exclaim!
Tour featuring
Stars
,
The Organ
,
Wooden Stars
,
Montag
@
Phoenix Concert Theatre
(Toronto, Ontario), April 14, 2005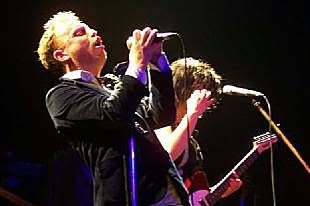 Soaked in the good vibes last Thursday night at The Phoenix. It was set up sort of like a mini music festival, but rather than sidestages, there was the main concert stage plus another room where they were showing viewings of some music related films. I walked into the film room first and they were showing what I believe was the Halifax hip-hop documentary
"The 902"
. Also scheduled for viewing that night was
The Flaming Lips
documentary
"My Life With the Fearless Freaks"
. I've already seen
"The 902"
but I would have loved to stick around to see The Flaming Lips documentary. However, I chose instead to go check out the bands. I'd already missed
Montag
. I had a chance to chat with
Mishie
at the show who described Montag as a guy on a laptop. A guy on a laptop doesn't necessarily make for an exciting live show, but I hear the music's good. In between bands, there was a sunglass-wearing, denim-clad MC on stage who was speaking in a sorta annoying voice, who I was assuming was trying to pump up the crowd. Let's just say he wasn't really successful although he did throw free condoms into the crowd.
Wooden Stars
were up next. I missed their recent reunion shows and I was glad to catch them this time around. I really liked their set. Accessible, verging on poppy sometimes, but really interesting rock instrumentation and time signatures. Their song
"Outlaws"
[
mp3
] was pretty representative of their set that night. Unfortunately, the crowd didn't seem to be that interested.
Having seen
The Organ
just recently, I was psyched to see them again. They played alot of songs off their cd
"Grab That Gun"
and they also played a new song or two which I didn't recognize. Unfortunately, with me not being right up in front of the stage I realized that they can kind of be uninteresting to watch live. Aside from the energy of drummer Shelby and the charisma of vocalist Katie Sketch, the other members were alot more mellow. As with the Wooden Stars, I prefer to see The Organ in a smaller venue.
Stars
, well they were Stars. Good set. Surprise guest appearances on one song from
Broken Social Scene
'r Andrew Whiteman on guitar, as well as a horn section featuring at least one Broken Social Scene'r(whose name I'm not sure of). Torq made some humourous remarks about songs about fucking and death and the band was their general chipper selves.
Didn't reach the high of their Mod Club appearances this past December 2004
but it was good nonetheless.
I guess my only criticism of this year's line up was that that it was just a little too mellow(relatively speaking), especially for a mid-size venue like the Phoenix in Toronto. Stars, progenitors of the
"soft revolution"
, The Organ with their cool post-punk tunes, and the Wooden Stars with their thinking-man's rock sound. And Montag with his laptop: With few instances of "rocking out", this year's Exclaim! Tour was a much more demure affair. [
photos
]