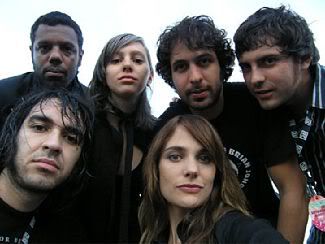 The Dears
' upcoming new CD "Gang Of Losers"[coming August 2006] has leaked and is only a
Technorati
/
Blog Search
away. I think I'll wait for the official release though before I listen to the whole thing.
However, you can listen to The Dears'(actually only Natalia, Valerie, Patrick, and Murray) acoustic live session on
BBC 6 Music's Gideon Coe
program from this morning. Listen
here
(session is about 1 hr and 40 min into the program; program only archived for a week.) They performed acoustic renditions of new songs "Ticket To Imortality" and "There Goes My Outfit". I'd ever be so grateful if someone could rip these to mp3, please.
Listen to the curiously-titled new song "Whites Only Party" off of "Gang Of Losers", over at the band's
MySpace
site. It's one of their more Smiths/
Morrissey
-esque songs I've heard.
Trace My Face
has a few songs from The Dears' "Gang Of Losers" available for download. [via
Torr
]
misha4music
has a The Dears' 2004
KCRW
session available for download.
And of course, just a reminder that The Dears will be in Toronto for a free show at
Harbourfront Centre
in Toronto on Canada Day(July 1st).[photo from
http://../
]
:
:
Billboard
reports that Will Oldham's next
Bonnie "Prince" Billy
release is on the sched for release on September 19th through
Drag City
. Prior to it's release,
Pitchfork
reports that Will will hit the road for an 11-date tour of free performances at US record stores, including
of course
, the most 'American' of record stores,
Rotate This
in Toronto on August 19th. Next closest in proximity for Southern Ontarioans is August 20th in Buffalo, NY at New World Record.
Pitchfork
reports on a couple of upcoming
Beach Boys
reissues including June 27th and the release of the "Good Vibrations" CD single, but more excitingly, August 29th when "Pet Sounds" is reissued in double vinyl and CD/DVD formats. The CD/DVD reissue is the one to look forward to because the DVD will feature promo films for "Pet Sounds", "Sloop John B", and "Good Vibrations", in addition to a photo gallery synched to audio of "God Only Knows", and three documentary films.