concert review
:
Pretty Girls Make Graves
,
Moonrats
,
Night Canopy
@
El Mocambo
(Toronto, Ontario), November 4, 2006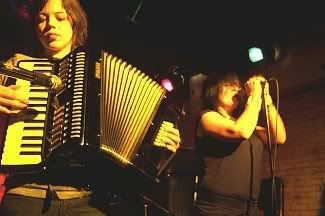 This past Saturday night, I caught an early show at the El Mocambo featuring headliners Pretty Girls Make Graves from Seattle Washington and openers Moonrats from Los Angeles, California and as well fellow Seattlites, Night Canopy. According to the gig poster there was suppose to have also been special guests but if there was I missed them. It was an early show with doors at 5 and I'd read somewhere that PGMG were to come on around 7:45 pm. I got to the venue around 6:30 pm and they seemed to behind schedule because because Night Canopy didn't come on until close to 7 pm. I sort of dread showing up early for opening bands(especially when there are multiple ones) because I think I'm losing my patience and don't want to be disappointed but I'll say that despite the thin crowd onhand, Night Canopy and Moonrats were decent.
Night Canopy are a three-piece featuring two young ladies and a young gentleman. They performed a really enjoyable set of indiepop varying from hushed pop of the 50's reminiscent "Seasick Casanova" to more uptempo songs that at times utilized modest electronic flourishes such as programmed beats and subtle sound effects like waves. At its core the music was all guitar, drums and keyboards, at times adding nice touches of glockenspiel and melodica. The vocals of the two young ladies were lovely and complimented each other nicely as one took lead and the other backup and then vice versa. Their set was a great start to the evening. They were selling some CDR's of their music after their set but unfortunately I couldn't get my hands on one because the band member I spoke to could only find two at the time, at which time a few people had already beaten me to it. So for now just check out their
MySpace
site.
I wasn't sure what to expect with the following band, Moonrats. In my opinion it's a terrible name considering they are not some snotty nosed punk band. Rather, they were actually quite decent. They performed a thoroughly modern, melodic brand of guitar-driven indie rock. They're a trio featuring two young gents on guitar and drums and a Japanese-American young lady on keyboards. There was a nice balance between guitar and keyboards, combined with the propulsive energy of the drummer that complimented the sugary melodies nicely. When the guitarist's vocals screeched, I was reminded a little bit of the Pixies and as noisy guitar entered the equation, I couldn't help but think of Sonic Youth. Above all the layers of noise, there were the melodies that held everything together. Good set. Check out their
MySpace
.
Thankfully, for PGMG's set, the venue started to fill in. As I was right up front, I couldn't tell how far the audience extended back but I had a feeling that the place wasn't quite as packed as it should have been. And it's not like the venue is the biggest one in town either. Be it the venue(which isn't one of my favourites), the less-than-capacity crowd, and or it being an early show but I somehow felt slightly disappointed overall. It's not that PGMG didn't try - and I'd least I have to give 'em credit for making it to Toronto, border troubles notwithstanding. Performing songs mostly from their last two releases "Elan Vital" and "The New Romance" I thought there were a lot of great songs which were energetically performed. If the crowd was in to the show, it didn't feel like it. Even the audience clamor for an encore felt half-assed although the band did come back for one.
While Pretty Girls Make Graves' previous disc "The New Romance" seemed sort of like a mixture of riot-grrl agression, and British melodic underpinnings(just listen to the vocals on "This Is Our Emergency"), as I listened to the new songs from the new album "Elan Vital" during the show, I noticed a lean towards a more straightforward melodicism. Overall I found some of the new songs to be mellower - but that's my impression from only hearing a few of the new tracks. I'll reserve my final judgement when I listen to the whole album. Sample some of the "Elan Vital" tracks over at the band's
MySpace
.
ps. I cheated on the posting time; it's actually 1:19 AM(Nov 8/06) but I actually meant to post this earlier this evening. So sue me.