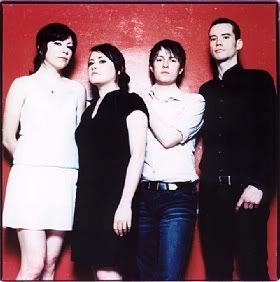 I'm almost didn't want to like
Sons and Daughters
' remake of
Seal
's song "Killer" but Son's and Daughters' version is too good not to like(I still don't like Seal' original version though). The band's new single "Darling" is streaming over at their
MySpace
along with the aforementioned Seal cover. Sons and Daughters are in the midst of a UK tour(check out their
tour blog at NME
) - I can't wait to see them when they hopefully come back to Toronto. I've seen the band
live
three
times
and I can't wait to make it a fourth. The band's forthcoming album "Gilt Complex" will be out through Domino Records in 2008.
And while were on the topic of bands that marry swagger and melody, I see that UK band
The Duke Spirit
also have a new album coming out in 2008. The new album is entitled "Neptune" from which three tracks are currently streaming over at their
MySpace
. I loved them
when I saw them play NXNE in 2006
. Like Sons and Daughters above, The Duke Spirit undeservedly seem to be flying under the radar which I hope things turn around in 2008.
Back on the local front, Toronto's
The Airfields
bring the indiepop live for their CD release that'll be happening at Sneaky Dee's on February 2 in the new year. And if my ears do not deceive me but are those new mixes of new songs "Prisoners Of Our Love" and "Never See You Smile" currently streaming over at their
MySpace
. At least with the former, I'm pretty sure they were only streaming a demo version of the song before.
Heads up for
Cuff The Duke
fans - they'll be at HMV(333 Yonge St.) tomorrow afternoon at around 5:30 pm for a live, in-store session sponsored by
CBC Radio 3
in celebration of the recently released CBC Radio 3 compilation
"CBC Radio 3 Sessions: Volume 3"
[info via
CBC Radio 3
]. The band's newest album "Sidelines of the City" is out now, and the band will be performing some songs live on CBC Radio One's "Q" show this coming weekend - the show broadcasts at 2pm and 10pm, and as the spiel goes, check your local listings.
Thanks to
Pitchfork
(via
Brooklyn Vegan
) for pointing to a video clip of Carl Newman(of The New Pornographers) and Peter(of Peter, Bjorn and John) and their impromptu live cover of The Association's pop classic "Never My Love". As much as I was talking above about music with guts and swagger, sometimes I'm just a big softie.