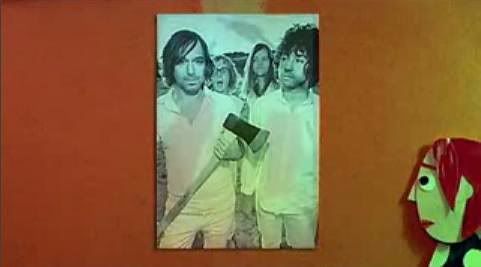 Touring their most recent album "Last Light"[which I still haven't picked up yet],
Matt Pond PA
have announced more dates which include a stop in Toronto on April 2 at Lee's Palace which will be an opening slot for
Carbon/Silicon
(The Clash's/Big Audio Dynamite's Mick Jones & Generation X's/Sigue Sigue Sputnik's Tony James, plus Leo Williams of Big Audio Dynamite and Domonic Greensmith of Reef). Matt Pond PA has a new music video below(and Matt's penchant for popsmith-ery continues to be a wonder):
Video
:
Matt Pond PA - "Locate The Pieces" (music video)
The New Pornographers
(including
Neko Case
) performed a live session of four tunes off of their most recent album "Challengers" at
AOL's The Interface
. They're at the Phoenix with
Okkervil River
on April 9.
At least according to
Pollstar
, Montreal's
Plants and Animals
will be part of the
Chartattack
CMW
showcase taking place at the Horseshoe on March 6.
Pollstar also points out that
White Denim
are set to open for
Tapes N' Tapes
at The Opera House on April 14.
Kathleen Edwards
, in celebration of her new album "Asking For Flowers" out March 4, will have a show at the Phoenix on April 23, tickets $22.50.
Torchy crooner
k.d. Lang
has annouced a whole bunch of tour dates which will include a stop at Massey Hall on May 31. Tickets on sale February 23 at 10 am.
And on today's date in 1964,
The Beatles
made their US television debut on
The Ed Sullivan Show
, with an estimated viewership of 73 million people[if I recall correctly when I was listening to the radio this morning]:
Video
:
The Beatles - "I Want To Hold Your Hand" (live on The Ed Sullivan Show - Feb 9, 1964)
ps. Oh, congrats to Anne and Craig for winning the
Nicole Atkins
CD contest I ran a little while back. They'll be going out in the mail soon[Craig, I still need your address].