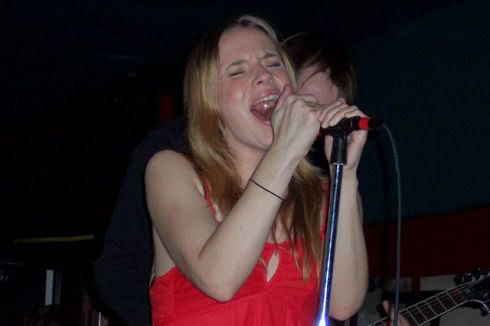 Last Friday night, day 2 of
CMW
, was a much less planned out affair than the previous. I'd already decided that I was going to check out Finnish beat-driven shoegazery pop band
Pooma
at Rancho Relaxo at midnight but having looked through
Eye Weekly's CMW guide
a few times, nothing piqued my interest.
Yellow Wood
(9:30 pm @ Rancho Relaxo): A few last minute MySpace surfing prior to heading downtown on Friday night and I made up my mind to try to see Windsorites Yellow Wood at Rancho Relaxo at 9 pm. I ended up leaving the house later than expected but got downtown to Rancho quarter after 9 pm thinking I'd only catch half a set but luck was on my side andn Yellow Wood went on a little bit after 9:30 pm due to the cancellation of one of the bands on the bill(fortunately it wasn't Pooma). I'm really glad I got to check them out a long with the respectable number of patrons(though far from packed) also there. Creating music in a similar vein to Toronto's
The Coast
, Yellow Wood specialize in atmospheric, sometimes anthemic, guitar-driven pop music. Add some keyboards and some drum programming, and well, forgive my grammar, but it was really good. As tight as they were, if Yellow Wood and The Coast were to go head to head, I still would pick The Coast because I think their melodies are a tad better, and there's more punch in The Coast's rhythm section, but Yellow Wood aren't too far off the mark.
Restlesslist
(10 pm @ Sneaky Dee's): During my subway ride downtown prior to Yellow Wood's set, I'd already made up my mind that I'd try and catch UK band Restlesslist at Sneaky Dee's at 10 pm. I never got to check out their
MySpace
but I found Eye Weekly's description of them interesting(
"...will appeal to fans of The Brakes and The Electric Soft Parade, but with influences from a host of obscure and mainstream artists including The Books, Anticon Records, The Unicorns, Joe Meek, The Chap and Gorillaz."
) so I thought why not. Of course with Yellow Wood's set ending a little after 10 pm, I made a hop, skip and a jump down the street to Sneaky Dee's to catch only about 15 minutes or so of Restlesslist's set. It's a shame though I didn't catch more of it because it seemed like a pretty fun show. The young trio of gents(although according to their Myspace, there's more people in the band) created a melange of dance beats, samples, keyboard squelches and guitar riffs that seemed a little punk, a little
Beck
, and a little IDM. Mentioning how being in Toronto for CMW was the furthest they'd ever been from home, you could see that they were practically bursting from all the excitement. What little I saw and heard was decent. They're not necessarily something I'd listen to all the time but within the festival atmosphere variety is the spice of life.
10:30 pm or so rolled around when Restlesslist's set ended and I decided to go to the Drake to see if I could catch the tail end of Toronto's
Laura Barrett
's set and or Toronto electro-punkabilly outfit
Slim Twig
's set. Both acts were part of Toronto record label
Paper Bag Records'
showcase and since I had some time to kill before Pooma's midnight set at Rancho Relaxo I'd have been happy to just get into The Drake. Unfortunately, it was not meant to be because they weren't letting any more media passes in due to the club being near capacity. I decided not to push it, and I left - I figured the doorman would probably have to tell dozens more people they wouldn't get in either. Consider it my good deed for that day. I took the streetcar down Queen St to John St., grabbed a hot chocolate, and walked back to Spadina to take the streetcar back up to near Rancho Relaxo, making it about 10 minutes prior to Pooma's set.
Pooma
(midnight @ Rancho Relaxo): I had high hopes for Pooma. I'd have to agree with
Chromewaves
(who was also at the show) who likens Pooma's music in part to those Danes
Under Byen
. Pooma give off a similar vibe, combining trip-hop beats, programming and guitars that alternately crash and reverberate, and Pooma tops it off with the sultry cooing vocals of female lead singer Tuire Lukka. In short, wasn't anything I hadn't already heard before but the studio versions of their songs that I'd heard on their
MySpace
were intriguing enough. Unfortunately, I found Pooma's set a little disappointing because confined to Rancho's tiny narrow stage and without the benefit of any real light effects, even though the music was decent, it was uninteresting visually[frontwoman Tuire is a cutie though]. Perhaps, this makes an argument that Pooma's music's meant for headphones or at least demands a better live visual element. Maybe they can take some cues from
Under Byen's who's show at The Mod Club last year
was both a musical and visual splendor.
Love Kills
(1 am @ Rancho Relaxo):I decided to stick around for Toronto band Love Kill's set. Fronted by the honeyed voice of Heather Flood with her male counterparts taking control of the instrumentation, it's quite obvious they mine similar musical territory as
Jesus and Mary Chain
but actually they're more like
The Raveonettes
during their transition from the JAMC-influenced "Whip It On" to the 50's tinged "Pretty In Black". Love Kills performed a competent amalgam of both these influence but perhaps with a little more of garagey, sometimes bluesy, influence thrown in. Props to the lead guitarist for looking the part with the cool shades and I loved the JAMC-Bobby_Gillespie-influenced mallet drumming that formed part of their sound. Melodies on a song or two didn't really do it for me and the guitars seemed somewhat muted[I would have prefered louder, fuzzier guitars, or maybe even some feedback now and then] but otherwise it was a fun set that the crowd seem to like a lot.
Check out a few of my photos over at my
Flickr
.
MySpace
:
Yellow Wood
MySpace
:
Restlesslist
MySpace
:
Pooma
MySpace
:
Love Kills