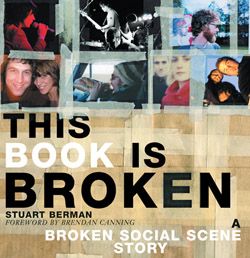 Disappointment for some leads to a windfall for many others as
Broken Social Scene
chooses to hold a free show at Harbourfront Centre on July 11 in the wake of cancelling their Olympic Island festival shindig. As the band
points out on their blog
(via suckingalemon at
Stillepost
), the band chose to cancel the show due to the Molson Indy happening that weekend and the imminent noise pollution that would have transpired and have affected the enjoyment of those attending a show on the island. They also allude to the fact that maybe tickets weren't moving so quickly (hey, but it's so Toronto to buy tickets at the last minute). In related news,
Pitchfork
reports that BSS are currently recording album their fourth album at Soma Electronic Music Studio in Chicago with John McEntire (Tortoise, the Sea and Cake). Eye Weekly's Stuart Berman's BSS bio
"This Book Is Broken"
is also
available now
.
I apologize for the lack of posts lately, so perhaps most of the following is old news, but I'll consider the following more of a laundry list of sorts for myself:
In support of her new album "Attracted to Sin" out on May 19,
Tori Amos
will be heading out on a North American trek, stopping for a show at Massey Hall on August 10. (via
Brooklyn Vegan
)
Scottish mope-sters
Frightened Rabbit
bring their indie-folk to Horseshoe Tavern on July 22, while after a whirlwind few months of media buzz, Toronto's
Rural Alberta Advantage
return for a hometown show at the Horseshoe on July 30. (via
Chromewaves
)
Caribou
frontman Dan Snaith has assembled a special group of musicians featureing Kieran Hebden (Four Tet, Fridge, Kieran Hebden & Steve Reid), Koushik (Stones Throw Records), John Schmersal (Enon, Brainiac), Kathryn Bint (One Little Plane), Ahmed Gallab (Sinkane), a four piece horn section, choir, four drummers, etc.. and have dubbed them the Caribou Vibration Ensemble. The group will only be playing two shows - The Flaming Lips-curated ATP New York Festival on September 13 and Toronto at The Opera House on September 10.
The Dead Weather
(featuring most prominently Jack White of The White Stripes and Alison Mosshart of The Kills) will play the Kool Haus on July 22.
Ohbijou
make up their previously cancelled date(in May) for June 25 at The Opera House to finally play their CD release show for their new album "Beacons". The new album is out in Europe on June 1 on Bella Union. A Canadian release date is still forthcoming.
Ok, I'm ten days behind on this but I'd love to get my hands on a copy of the new limited edition box set of
Echo and The Bunnymen
's "Ocean Rain" which
NME
reported on. The box set will include a live version of the album recorded in the Liverpool Arena last November, plus a DVD documentary and booklet. As well, the first 1,000 copies ordered will be signed by frontman Ian McCulloch and guitarist Will Sergeant.
Scottish band
Trash Can Sinatras
(who'd last played shows in Toronto at Lee's Palace in
September 2004
and
May 2005
) have a new album "In The Music" coming out in North America on July 14 through Hensley Music Group (which has ties to EMI). The album comes out in Europe through Lo-Five Records sometime in August. A special, limited, deluxe version if the album is currently available for pre-order at their website. They'll play the Fuji Festival in Japan on July 25 and they have plans to tour North American in August and Europe afterward, with touring in Japan and Australia possible later this year. Listen to their new single "People" over at their website. I'm still trying to make up my mind about the new song - it's a slice of pure-pop but it somehow doesn't match the brilliance of anything off their last album, 2004's "Weightlifting".
But the reason for the lack of posts lately is that I was in the midst of booking a trip to Barcelona which I've finally done. I depart May 26 and will return on June 5. I'll be attending the
Primavera Sound Festival
at Parc Del Forum from May 28 to 30 and I've also swung a ticket to see
Wilco
on June 4 at Barcelona's opera house
L'Auditori
. The rest of the time, I just plan on taking in the city, taking photos, eating good food, meeting some good people and perhaps a train trip or two to visit other nearby cities. A Eurotrip I will need to save for another time. Anyone been to Barcelona and have any good recommendations?