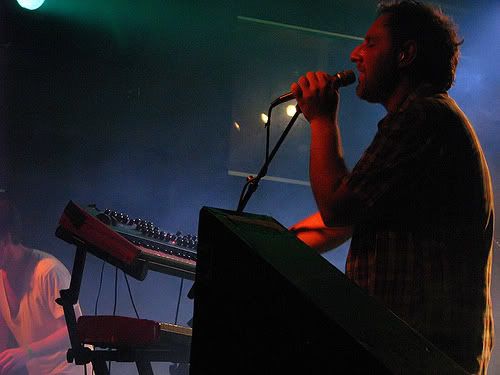 Update [Nov 11/09, 12:23 AM]:
Review now up.
I commented recently in a
recent gig review
that Toronto band
Parallels
"... pursue a genre that is particularly lacking in Toronto" and the genre I was referring to was synth / electro-pop music. In retrospect, it is perhaps unreasonable to expect a an explosion or scene of bands within such a narrowly defined genre. Maybe that's why Hamilton's Junior Boys have been so successful as over the course of three albums, their most recent being this year's "Begone Dull Care", the duo have built upon a synth-pop basis using bass and guitar and a live drummer, merging that live instrumentation and vocalist Jeremy Greenspan's smooth vocals with the sampled beats of electronic noodler extradornaire Matthew Didemus. Most apparently, especially with the new album, the boys have brought greater attention to their R n' B influences which I've enjoyed immensely. Having toured North America for the new album since the beginning of October, the final three dates culminated with shows within the Golden Horseshoe, the third last date stopping in at Lee's Palace in Toronto for a sweaty, packed show this past Friday night.
The Toronto duo of Dan Werb (vocalist/keytar) and Paul Banwatt (drummer) known as
Woodhands
opened up the show. It was a pretty high energy set with Banwatt's compact but explosive drumming and Werb's enthusiastic vocals and keytar playing. Musically, they tended towards a modern new-wave, electro-pop dance-rock sound that had people dancing and moving within the crowd. Through the use of some sort of electronic do-dad, drummer Banwatt sung "Dancer" sounding like pixie-ish Toronto female music artist
Maylee Todd
who sings on the studio version. Later on Werb would go hardcore-ish vocals on us with a abrasive version of
Biz Markie
's "Just A Friend". For my first time seeing them it wasn't difficult to see why they're so loved - they are the definition of fun, and I'd definitely check 'em out live again - but I'll leave the young un's to fawn over them, as I'm not there yet.
On the other hand, I've been fawning over Hamilton's
Junior Boys
since there early days. Vocalist Jeremy Greenspan mentioned that Junior Boys' first and last time playing Lee's Palace was about 6 years ago during the band's earliest days on a bill that'd featured another band made up of male models. Strange bill indeed. Returning to Lee's Palace 6 years later, Jeremy said the venue had a special place in their hearts. My previous times seeing Junior Boys live was at the El Mocambo and The Mod Club but this show at Lee's was by far my favourite. While the boys live stage presence hasn't changed much (and thank God for the live drummer) - Matthew still fairly removed from the audience as he goes on with his electronic noodling and Jeremy with some groove in him as he sings and plays guitar, bass, or keys - the venue did present one of the loosest audiences I've seen at a Junior Boys gig.
I didn't so much watch the band onstage as I watched the audience dance or immerse myself in my own euphoria. Junior Boys' music tends to simmer slowly before a melody or beats kick in but once they do, they take hold and don't let go. This was especially true during their set with tracks like the new albums' Depeche-Mode-ish "Parallel Lines" or the sultry beats of "Work". On the other hand, Junior Boys' showed an immediacy with the R n' B-ish "Bits And Pieces" and "Hazel" both which got many people including myself dancing. Other highlights included their debut album's "Birthday" and set closer "In The Morning" (off of "So This Is Goodbye"). Subsequent to Toronto, they played Waterloo then ended off in their hometown of Hamilton. They've been around the world and are now home for a deserved rest. I'm happy as a fan that this is probably their most successful tour to date, but on the other hand it's a little sad that we won't get to see them play live any time soon. I'm glad they played Lee's Palace this time. Something about Lee's Palace lends itself to the best audiences I've seen at gigs and maybe that's why I keep on going back. It was one of if not the loosest audience I've seen at a Junior Boys gig and it definitely made it the most enjoyable Junior Boys show I've seen ever.
Jen at
Narratives
has a review of the show.
Spot The Groove
reviews the show as well and has some photos.
Update:
The Singing Lamb
just posted their review of the show.
Photos:
Junior Boys, Woodhands @ Lee's Palace in Toronto (November 6, 2009)
MySpace:
Woodhands
MySpace:
Junior Boys