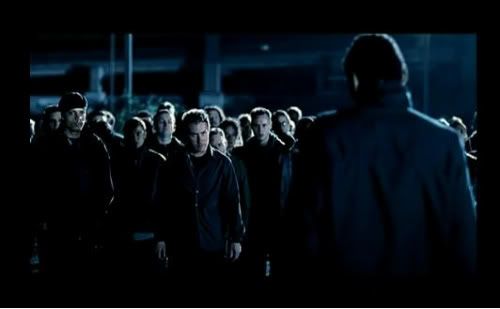 Massive Attack - "Angel"
With the Vancouver Olympics now but a memory (it's gawdy closing ceremonies and all,
Neil Young
's performance of "Long May You Run" being the lone highlight for me), there's a lot of other musical things on the horizon.
The
Canadian Musicfest
schedule
quietly went up recently and with the festival coming up next week, I do have some planning to do. I have a shortlist of acts, mostly unknowns, that I hope to post about next week prior to the festival beginning.
One of the highlights could be Toronto's
Fucked Up
who'll be playing at the El Mocambo on March 10. Egad, that'll sure be intense.
But more interestingly, at least for me, are the number of veteran acts coming to Toronto. News about newer 'veterans' like
Pavement
(@ Olympic Island on June 19) and older ones like
The Specials
(@ Sound Academy on April 19) have already been announced. More recently, UK (and let's don't call 'em trip hop anymore) act
Massive Attack
have
announced some select North American dates
including two in Toronto at Sound Academy on May 7 and May 9, this being to promote their new album "Heligoland" out now.
Video:
Massive Attack - "Splitting The Atom" (music video)
And as bonus, one of my favourite music videos of all time:
Video:
Massive Attack - "Angel" (music video)
Another act, although one I'd only ever explored casually, UK's
Public Image Ltd
will
bring their tour
to Toronto at Kool Haus on May 7.
Also jumping on the nostalgia bandwagon (and no there's nothing wrong with that) are
Echo and Bunnymen
who'll return sans orchestra for a show at the Phoenix on April 23.
The Weakerthans
, with openers Toronto's
Bahamas
, will be at Queen Elizabeth Theatre on May 26. Licensed/All-ages show, Tickets $35.00 advance, $40.00 @ the door. Tickets go onsale March 4 at 10 am EST. The band will currently be promoting their new live DVD/CD "Live at the Burton Cummings Theater" due for release on March 23.
Led by
Art Brut
's Eddie Argos, his curiously named side project
Everybody Was In The French Resistance.....Now!
bring their skewed pop to Toronto for a show at the El Mocambo on May 8. 19+ show, tickets $10.00 advance, $12.00 @ the door and go onsale March 4 at 10 am EST.
Charlottetown boys
Two Hours Traffic
can't seem to get enough of Toronto as soonafter making an appearance at this year's Canadian Musicfest at the Horseshoe on March 13 and then going to SXSW, they'll return to headline Lee's Palace on April 3. Other Ontario dates are posted at their
MySpace
.
Toronto electro-soul outfit
Pants & Tie
will open the
Hot Chip
and
The xx
show at Kool Haus on April 20 (via
The Windish Agency
).
An American indie triple bill with
The Soft Pack
,
Beaters
, and
Male Bonding
stops at the El Mocambo on April 7.
Things get LOUD at Lee's Palace on May 26 with Scotland's
The Twilight Sad
and Tokyo's
Mono
.
Montreal's
Silver Mt. Zion
play Lee's Palace on May 29.
AUX
reports that Toronto electro-soul rock act
Thunderheist
are no more having apparently posted the news on their
Facebook page
. So far the band only have some US west coast and British Columbia dates lined up in June, but I'll be surprised if they don't also arrange a hometown Toronto farewell show sometime.
And thanks to Melody for bringing this news to my attention:
Chartattack
are moving out of their offices at
34 Britain St. in Toronto
and will be moving uptown on March 8. Ok, that's not the news. The REAL news is that they're GIVING AWAY FOR FREE back issues(yes, the paper ones) of Chart Magazine as well as various other goodies like old archive CDs, DVDs, reference books and random promotional items. It's first comem first serve and they'll be open from 10 a.m. and 6 p.m from now until March 4. I hope to head down to this tomorrow after work. If I do make it, I'll be sure to bring an environmentally-friendly, reusable bag to haul away anything I can get my hands on. Like I need more stuff. But then again, it's free stuff.