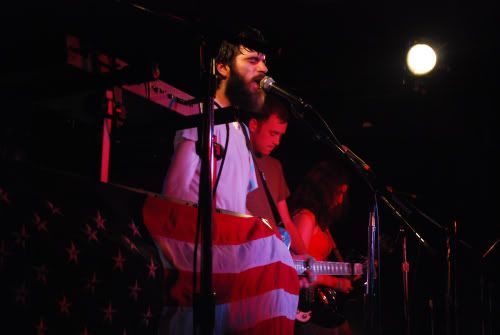 Titus Andronicus: photo by Michael Ligon
What seems more and more like a rare occasion for me, I actually got out to a show on a Wednesday night last week at the
Horseshoe Tavern
, specifically to see buzz-y Jersey rockers
Titus Andronicus
and also to see Boston's
Hallelujah The Hills
who I'd remembered liking when they opened for Silver Jews at Lee's Palace in September 2008. Also on this night's bill were unknown entities Austin duo
Yellow Fever
, although having read some good things about them on
Pitchfork
I was intrigued to check them out.
I arrived a little after 9 pm with Austin duo already into their set and a small audience present. The duo, of the guitar-drums variety, played a set of askewed pop music, with a penchant for succinct guitar playing and drumming, and dry vocals. My mind kept wandering to images of early 80's post-punk, or more recently a band like San Francisco's
The Aislers Set
, minus the reverb. The band was most satisfying on more straight ahead tracks like the more poppy
"Culver City"
. They were comfortable enough on stage, but didn't feel much motivation for banter, although perhaps that'll change as they continue their exhaustive North American summer tour. Catch them in your town.
Next up were Boston's Hallelujah The Hills. Specializing in an amalgam folk-rock influences like cello and working-class roots-rock, the set was occasionally anthemic but otherwise much of it was infused with a sense of urgency. Occasional cello and brass, melded nicely with conventional rock instrumentation and the raucous lead and group vocals. The band's second album entitled
Colonial Drones
is out now through
Misra Records
and based on their live set and the favourable response from the crowd, they'd be a band to keep your eye on.
The band I was there to see specifically was New Jersey's Titus Andronicus. With fellow Jersey rockers
The Gaslight Anthem
also in town that night, Titus Andronicus' frontman Patrick Stickle thanked the crowd for choosing to see them over Gaslight Anthem. Much of my motivation to check them out was based on liking their raucous single
"A More Perfect Union"
, a sublime slab of sloppy rock n' roll. It seemed that I was a little behind the curve as the venue was comfortably packed by the time the band hit the stage, and as the band performed each song, there was many a fan singing along.
Named after the Shakespeare's earliest and bloodiest work, it's the latter description that really was reflected in the Titus Andronicus' visceral rock n' roll attack. It's that attack that took me off guard because the young band didn't quite look like they were capable of it - for example, one look at violinist/guitarist Amy Klein who looks like a high school girl in her knee-length cut-off jeans and I'd never have thought she'd be rocking out as much as she did. Whether intentional or not, the band's sound was like an homage to classic influences likes
The Clash
,
The Replacements
,
Bruce Springsteen
,
Sex Pistols
and
The Pogues
, and for the most part doing those influences justice. Perhaps the band utilized the formula on several songs a little too often where they'd start a song with a subdued Pogue-ish / Shane McGown-ish folky vocal before the band dropped like a rock n' roll bomb, but no doubt the formula was used to good effect each and every time. And when the crowd is slam-dancing AND body-surfing, you know the crowd is loving it. As a bonus for the night, the band invited ex-guitarist Liam Betson, who's also recently transplanted to Toronto (for what I don't know), to join them onstage for a surprise rendition, and what turned out to be a sincere version of Weezer's "Undone". It seems there's been such a diversity in music genres lately, I could have almost imagined someone about to declare the death of rock n' roll. But Titus Andronicus prove it isn't that time yet and hopefully it shall never be.
Photos:
Titus Adronicus, Hallelujah The Hills, Yellow Fever @ Horseshoe Tavern, Toronto (July 14, 2010)
(still to come)
MySpace:
Yellow Fever
MySpace:
Hallelujah The Hills
MySpace:
Titus Andronicus