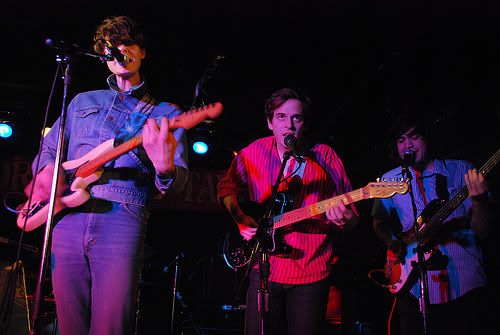 Magic Kids: photo by Michael Ligon
Update [April 12/2011, 11:40 pm]:
Sorry for the delay. Review is now up.
I didn't know exactly what sort of turnout to expect for the show at the Horseshoe Tavern last week on Monday night. Its headliners Cults, and middle act of the night Magic Kids have both had their own share of buzz and press, but I heard nary a peep about this show from the local press leading up to it. And with that night bringing some nasty weather, I thought that would have scared a few people away but in the end I was pleasantly surprised that at least by the time the second act of the night Magic Kids hit the stage, the 'Shoe had a healthy turnout.
The bands bookending the night(first openers Superhumanoids, and headliners Cults) were bands that
soundtracked my last night of CMJ in New York City last October
. Los Angeles four-piece
Superhumanoids
were the tightest band of the night in my opinion, and while they may have protypical melodic indie sound propelling their songs along with boy-girl vocals, guitar, bass and keys they do it well. They don't quite fall into dream-pop territory but there was a certain dreamy quality to their songs, mostly with the vocals of lone female member Sarah Chernoff and her keyboards, while the guitars(courtesy of male vocalist Cameron Parkins and the rhythm section(bassist Max St. John and drummer Evan Weinerman) had a bit more muscularity to even out things. It was a sparse crowd at this early point in the evening which is a shame that more people didn't catch them. Next time Toronto.
Memphis, Tennessee buzz band
Magic Kids
were up next and while headliners Cults were the band most people were there to see, there also seemed to be some palpable excitement for Magic Kids as well. The band's 2010 single, the Brian Wilson-influenced
"Hey, Boy"
was one of my favourite songs of last year and although I never really got around to listening to the rest of their debut-full-length
Memphis
, if the rest of the album was anything like that single, I'd expect it to be a good set. The quite young-looking outfit led by lanky frontman Bennett Foster dressed in ripped denim jeans, and slim denim jacket buttoned up and the rest of the band were dressed comfortably, with a certain hipster, geek-chic quality, The band ripped through a fun set of pop music, bowing to the alter of Brian Wilson melodically, with a lot of 'oohs' and 'aahs' in the vocals, melodic keyboard arrangements, ramshackle guitar and bass and overall played looser and more casual than I'd heard them on record. With two keyboards setup in the middle of the stage for later use in the set, main keyboardist Will McElroy was set up at stage left with violinist/vocalist Alice Buchanan beside him, with drummer Ben Bauermeister at the back of the stage, and frontman Bennett Foster, guitarist Alex Gates, and bassist Michael Peery taking up center to stage right. With Bennett, Alex and Michael lined up the right side of the stage together, it was an interesting configuration to see all three approach their mics at the same time to sing together. I've read the band described as a budget Beach Boys which is somewhat apt as although the band does possess a similar melodic sensibility, vocally and instrumentally they are a lot less precise. But they who says they were trying to be. Fun, fun, fun.
Somewhere along the lines between the first time New York group
Cults
played in Toronto last August at the Horseshoe and this show, the band has garnered a following. I'd already picked up on that when I saw them during CMJ last October, although part of the excitement in the crowd that time also had to do with they were a hometown band. But yes, Toronto has taken a liking to them. According to their
Facebook
page, Cults is offically the project of vocalist Madeline Follin and guitarist/vocalist Brian Oblivion, but as a touring act at least for this show were rounded out with a drummer, bassist and second guitarist. The band straddled between Motown-ish pop influences ("Go Outside", "Most Wanted") with a more blues-y, rock sound and wasn't afraid of a bit of reverb. The band(other than vocalist Follin) were perceivably and actually young but at least felt like a band and were up to the task as musicians. On the other hand, while vocalist Follin did impress with her strong vocal dexterity, her way-youthful appearance and wholesome stage presence formed a bit of a disconnect with the rock n' roll frontwoman presence she perhaps was trying to achieve. Vocally, FOllin excercised her vocal pipes with an abundance of melodic and blues-y tones, with the emotions that coincided visible in her facial expressions, but part of me also wished she'd cut loose physically in a fit of euphoric release a la Janis Joplin. Aside from such criticisms, it was a brief but enjoyable set and for the night overall, a more than satisfying indie triple-bill.
Photos:
Cults, Magic Kids, Superhumanoids @ Horseshoe Tavern, Toronto (April 4, 2011)
MySpace:
Superhumanoids
MySpace:
Magic Kids
MySpace:
Cults