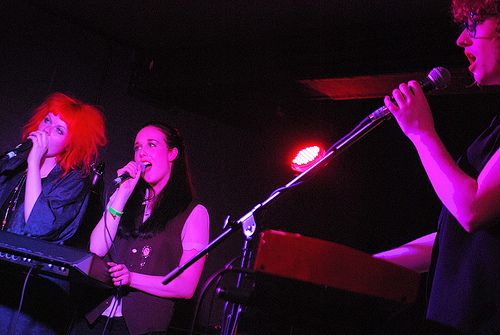 &nbsp
ALX @ The Garrison: photo by Michael Ligon
For this year's
Canadian Musicfest
, Saturday wasn't the official last day of the festival [as Sunday night had a smattering of shows to close out the festival] but for many the Saturday night was the night to end things, and hopefully on a high note. That said, my Saturday night was a generally light one but that was fine by me.
Cooler temperatures than the previous milder nights, I made the decision to stay indoors as much as possible - club-hopping isn't fun when it's cold. With not much of an itinerary in mind for the night, I decided to forgo the first few primtetime hours of the night (between 9 and 11 pm) and instead of seeing bands, decided to take in one of the music films screening as part of the film festival component of
Canadian Music Week
. The film screening was entitled
Girl Walk // All Day
. The following information about the film is taken from the film's website:
"Girl Walk // All Day is a feature-length dance music video and tale of urban exploration that follows three dancers across New York City. They turn the city's sidewalks, parks, and architecture into an evolving stage as they spread their joy of movement.

The film is about self-discovery and love, and it's a tale about finding community and vitality in shared public spaces. The idea for this project emerged from our desire to expand the boundaries of the single-track music video, to an epic music film.

Girl Walk // All Day is set to All Day, the album by mash-up musician Gregg Gillis (aka Girl Talk)."
I enjoyed this very much on many levels. As a love letter to NYC, it made me want to go back so bad - this film has to be seen on a big screen. The pop, hip-hop mash-up soundtrack of
Girl Talk
brought the dance segments on screen to life. Overall, the film expressed happiness and joy of life. There was one scene that said it all - when dancer Anne Marsen while dancing approached unknowing passersby on the streets, one Orthodox Jewish gentleman questioned why she was dancing, in which she replied "Because she is happy" and which in turn the gentleman replied back "You should always be happy".
Video:
Girl Walk // All Day - Chapter 1: School's Out
Video:
Girl Walk // All Day - Chapter 2: All Aboard
Video:
Girl Walk // All Day - Chapter 3: It Goes Like This
Video:
Girl Walk // All Day - Chapter 4: Enter The Gentleman
Video:
Girl Walk // All Day - Chapter 5: Chinatown Hustle
Video:
Girl Walk // All Day - Chapter 6: The Creep Takes New York
Video:
Girl Walk // All Day - Chapter 7: High and Low
Video:
Girl Walk // All Day - Chapter 8: Shopping Spree
Video:
Girl Walk // All Day - Chapter 9: When Dancers Collide
Video:
Girl Walk // All Day - Chapter 10: Dance With Me
Video:
Girl Walk // All Day - Chapter 11: Chain Reaction
Video:
Girl Walk // All Day - Chapter 12: For The People
After that good start to the night, I headed to the
Garrison
to catch Toronto's
Allie Hughes
, whose new electro-pop project was entitled
ALX
. I'd actually not seen Miss Hughes live although I vaguely recall her in the CBC television program "How Do You Solve A Problem Like Maria?" in which
she sang a cover of Bjork's "It's Oh So Quiet"
. From that I was aware of her vocal talents but I didn't quite expect the transformation she undertook for ALX. First impressions will most obviously point to fellow Toronto artist
Katie Stelmanis
who transformed into a electro-goth diva for her current project
Austra
. If we're to compare ALX to Austra however, ALX is decidely more disco. But rather question her motives, let's just take ALX as a new outlet for Miss Hughes talents. For their second show ever (as Allie announced), it wasn't without it's problems. There were some technical difficulties with one of the synths shutting out, during which the rest of the band continued to play through until the problem was solved. Musically, Allie was in fine vocal form but I didn't find every song as stellar as I'd hoped. I still think Allie might be working out her stage presence as a disco diva - the writhing on the floor's stage, while it may have been a spontaneous act, just felt a bit forced. The band have a song entitled "I Will Love You More" up on
YouTube
and available for free download on their
BandCamp
which I think is terrific. If they can work out the kinks and develop a good live set, I will most definitely look forward to seeing them live the next time.
Capping off my Canadian Musicfest this year was, Chapel Hill, NC's
Last Year's Men
who were capping off a three-night stint at the
Silver Dollar
. For a Saturday night, it was a surprisingly light crowd at the Silver Dollar, but the young group paid no attention to that and played as if they were rocking a full-house. For fun, the drummer had a blond wig on, with the bassist wearing an old-school, full-length sleeping gown, and the main vocalist wearing a black, robber's mask. There was also a fourth guy on guitar sporting sunglasses and a moustache. Aside from the efforts of one young lady near the end of the set to try to start some slam dancing, the crowd on hand didn't quite get in to it as I'd hoped. The band's music, a mix of 50's / 60's melodies with an infusion of punk / garage sensibilities was at time balls out rock n' roll but there were at times, a few slower tempos. For such a young band, I'm curious as to how the band found this musical direction. Overall it was a good energetic set from the band, ending off their set with a smashed guitar, some spilled beer, and the bassist exposing himself to us. All in the name of rock n' roll.
And so there it was. 17 acts, 1 film over the course of 4 days. Until next year Canadian Musicfest.
PHOTOS:
Canadian Musicfest (Saturday March 24, 2012)
BandCamp:
ALX
MySpace:
Last Year's Men