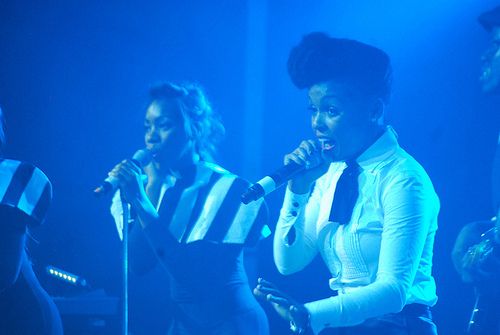 Janelle Monae: photo by Michael Ligon
R n' b / soulstress / chanteuse
Janelle Monae
is making a return visit to Toronto for a show at Sony Centre For The Performing Arts on September 9, a mere three months after her playing the main stage at Nathan Phillips Square, which had kicked off the
Toronto Jazz Festival
in style. That was only the second time I'd seen her live (the first time being when
she opened for Arcade Fire at Olympic Island during the summer of 2010
) and it only confirmed my first impressions of her - her talent seeps through every pore of her being and she's in it for the long run.
Opening up the show was
Roman GianArthur
, originally from Winston-Salem, NC. Not much information comes up on the 'net about him although apparently a debut LP
The Good Dreamer
is in the works. And there is no doubt, that as Mr. GianArthur's set exemplified, the man is talented, playing guitar and belting out his funk / soul tunes with precision. Perhaps, it's that last point wherein the problem lies - there's a Prince-like quality to GianArthur's music and overall approach, but so far at least, there isn't much of a distinct personality behind it. Maybe, it's just because I don't know much about the gentleman but it's early on his career and I'd be more than willing to give him a chance towards paying his dues.
After having gone through my photo-set of the show, it was quite obvious how kinetically-charged this show was. Although a female, Monae's performance embodied male icons such as Prince, James Brown and Michael Jackson, both in her vocal intensity as well as her physical stage presence and dancing. I'll admit that maybe her gender as a female makes her talent seem that much more special; were she male, maybe she'd be called out as a copycat. But rather than over-think this any more, I'd rather focus on what a spectacular show she and her band-mates put on. Everyone was dressed to the nines in white shirt, dark trousers and black tie, a few sporting vests, with her three-member string section sporting the white body suits, and her backup vocalists doing the opposite with the black bodysuits. It was so freaking amazing how tirelessly energetic Monae and her band-mates were and I'm thinking how do they do it from night to night? They gave it a 110% and more.
The
set list
was a terrific mix of her own songs (from her debut LP
The ArchAndroid
) and covers. While the set list including encore seemed short in length, Monae and her band extended many of the songs into impromptu james, playing up to the crowd, with guitar and drums solos. Songs of hers like "Faster" and "Tightrope" hit the crowd in all the right places, while covers ranging from Charlie Chaplin's "Smile", Prince's "Take Me With U", Jackson Five's "I Want You Back" and Shirley Bassey's "Goldfinger" displayed how versatile Monae is. There was an interesting point in the show during one song where she painted on a canvas and at the end of the show, a lucky fan (whose birthday it was) got to keep the painting. It was just another example of how giving Monae had been to the audience that night. If your a newbie to Monae's live show and you are going to see her at the Sony Centre For The Performing Arts this coming Sunday, you are in for a really special treat.
Photos:
Janelle Monae, Roman GianArthur @ Toronto Star Stage, Nathan Phillips Square, part of Toronto Jazz Festival (June 22, 2012)