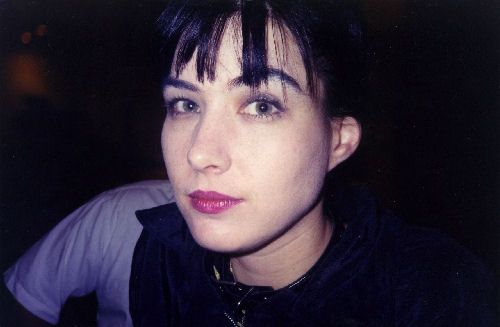 The Punk Singer
What was I doing in 1990? I'd just graduated high school and was entering my first year of university. I'd been a music fan (mostly the alternative British music scene of the 80's and John Hughes films) and hadn't really delved too much into the indie music scene. The next year, Nirvana's "Nevermind" would be released, grunge would go mainstream and well, the rest is history. Back then I never really gave it a second thought that the music scene had been much of a boys club. So when a band like Halifax's all-female Jale formed in 1992 and started to release seven-inches, I took notice of 1) a burgeoning indie music scene and that 2) there was a whole scene of females making music independently. My experience here in Canada I would imagine was one that was reflected by some in the U.S. Pacific Northwest with Kathleen Hanna of
Bikini Kill
 who formed in 1990 and whose first release was an independently released cassette entitled
Revolution Girl Style Now!
released the following year. I kind of had my head in the clouds for the last few decades in ever getting acquainted with Kathleen Hanna until now, having read about her in passing numerous times in the music press and music books. Yes, I've heard of
Riot grrrl
, which I had understood as being both a feminist movement and musical descriptor, but never really made the effort to listen to much of it beyond the occasional snippet. So it was surprisingly refreshing to watch what turned out to be a truly terrific documentary on Kathleen Hanna's life entitled
The Punk Singer
directed by Sini Anderson.
Through a wealth of photos, video footage, as well as talking heads segments from the likes of her Bikini Kill bandmate Tobi Vail, her husband Beastie Boys Adam Horowitz, her Le Tigre bandmate Johanna Fateman, and a plethora of others as well as Kathleen herself, The Punk Singer is presented as the evolution of Kathleen Hanna as a person influenced by her own personal experiences and coming along at a politcal / cultural time when someone like her was needed,  her influence on the feminist movement and the music scene [from Bikini Kill,
Julie Ruin
,
Le Tigre
, and
The Julie Ruin
], and a what-ever-happened-to-her story after she abruptly abandoned performing live in 2005.  The documentary presents Kathleen as thoughtful, insightful and strong, but at the same time vulnerable and wounded at times. It was heartbreaking to see why she left the music scene in 2005 and I'm sure her story is already known to at least many of her truest fans but I'd rather not spoil it for those of you planning to watch the documentary and mention why [which the last act of the documentary focuses on]. It is a triumpant feeling however to see how Kathleen manages to rise above it, at least briefly, and to see those last few scenes of the documentary and how loved and appreciated Kathleen Hanna is. For someone who sought to be an agent for change, but never had seeked or imagined being a 'hero', she became one for many people and
The Punk Singer
deservedly shines a light on a story that needed to be told. Highly recommended.