On this fine Canada Day I thought take some time to get up my last slice of
NXNE
reviews for Saturday June 15. After taking some time out from NXNE for a
relaxing afternoon set from Sarah Harmer
who was performing as part of
Luminato
, I had the rest of the day to figure out what I'd do for NXNE. I had some picks for NXNE that night that I was fairly certain I'd try to go to them but I had the rest of the afternoon into the early evening to decide to what to do so with nothing better to do, I went to check out the action at Yonge Dundas Square.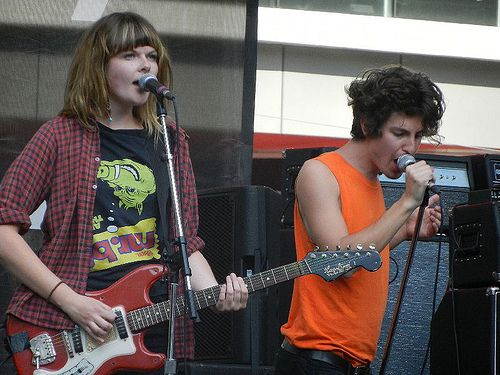 Moon King: photo by Michael Ligon
I got to Yonge Dundas Square in time to catch
Moon King
fronted by Maddy Wilde, and Daniel Woodhead who used to be in Toronto indie group
Spiral Beach
. Where Spiral Beach's lauching point was quirky indie rock that had a conciseness to its instrumentation, Moon King go for a far looser sound, taking elements of punk, shoegaze, and just a tad bit of psychedelia, wrapped up in the energetic reverb-tinged vocals of Woodhead and Wilde. The midday distractions of Yonge Dundas Square prevented me from getting more than a mild appreciation for what the band was doing on stage, but at least what they were doing was interesting. On another note, my thirst beckoned and so I went on a quest to quench it.
Serena Ryder: photo by Michael Ligon
I had more than a few hours to kill and somehow found myself down on Queen St. near the MuchMusic building where the
MMVA's
were preparing for their broadcast the day after. Miss
Serena Ryder
was sound checking, running through a mini-medley of her hits "What I Wouldn't Do" and "Stompa" multiple times. It seemed that it wasn't so much a sound-check as much as the crew and her were trying to get all the camera angles and her marks on the floor right. And by the way, I saw her performance on television the day after and she nailed it. Went to
Burger Priest
down the street for the first time [thumbs up] and was making my way to the Garrison for the 8 pm set of Toronto band
Breeze
but the transit gods were not co-operating so instead made my way to Czehoski for the 9 pm set of Swiss singer songwriter Heidi Happy.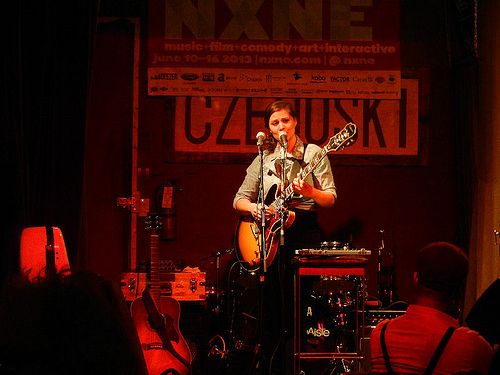 Heidi Happy: photo by Michael Ligon
I know
Czehoski
has been booked as venue for NXNE for several years now, but it's just the worst as a music venue. It has a small stage at the back of the house with dinner tables and dinner patrons flanking each side of the narrow space that leads to the stage. I watched from the back with a beer I ordered from the bar which seemed like the least awkward thing I could do at the time. Thankfully, it seemed like most of the dinner patrons were trying to be respectful and pay attention to the artist while they actually ate but still the venue just seemed totally wrong.
Heidi Happy
, I think sensed a bit of distraction at times, but made the most of it with her mostly folk-pop ballads. (She also did an acapella cover of a German-Swiss song that was fun to watch and hear.) Alternating between acoustic and reverb-y electric guitar, she also used a looper quite frequently for rhythms and vocal backing as well as other instruments at times like a mini xylophone. Her overall approach as well as the use of a looper reminded me of Feist. I enjoyed her set although I was a bit disappointed that she wasn't playing with a band since some of the songs of hers I've heard off
YouTube
definitely sound great fleshed out instrumentally. From what I recall, Heidi Happy has come through town for festival appearances (CMW, NXNE) several times now, so I woudn't be surprised if she makes a return trip in the future.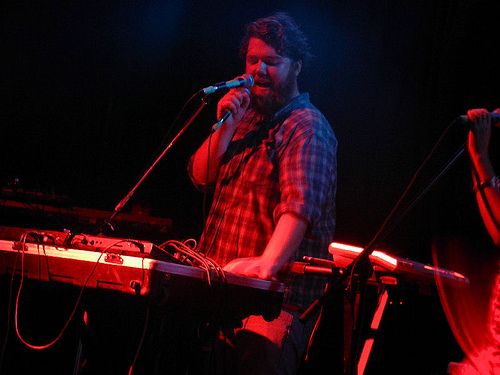 Chad Valley: photo by Michael Ligon
I thought I'd shoot over to
BLK BOX
on the streetcar but hadn't anticipated fire trucks coming down the street and blocking off traffic as well as the streetcar. Fortunately, the traffic delay was only temporary and the streetcar got through and I was off to see UK electro-pop artist
Chad Valley
at BLK BOX. It's no surprise it's called BLK BOX. It's a room that literally is painted black. Devoid of white light, it was mostly red and maybe some hues of blue illuminating Chad Valley on stage. The brainchild of the project is vocalist / instrumentalist Hugo Manuel. With Manuel behind a bank of keyboards, his soaring vocals (along with his soulful backup singer) helped to propel the vibrant electro-pop rhythms and melodies that reminded a lot of M83. Chad Valley's full-length debut
Young Hunger
was released in 2012, featuring collaborations with artists like
Twin Shadow
and
Active Child
, and something I think I'd like to check out.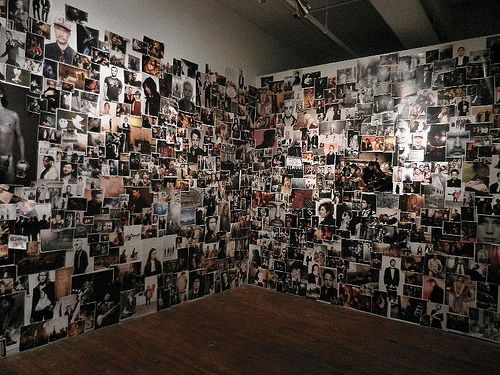 Norman Wong Arts & Crafts Photo Exhibit: photo by Michael Ligon
Fortunately, I was just in the vicinity of the
Arts & Crafts Pop Up
and decided to pop-in to check out photographer
Norman Wong
's exhibit. They had a DJ playing and a bar and it would have been a nice chill way to hang out for a bit but there wasn't that many people there which was a shame. Perhaps everyone was down the at the Horseshoe Tavern, if the long lineup was any indication at 11:30 pm trying to get into the venue for
Fucked Up
's 1:00 am set. I was only swinging by and wasn't planning on catching Fucked Up anyway so I made my way up the street towards Kensington Market to catch my final set of the night as it would turn out.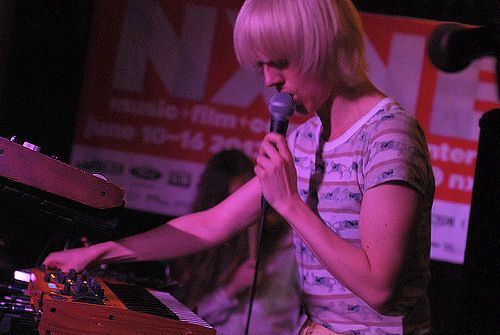 Un: photo by Michael Ligon
Having missed seeing their only set during Canadian Musicfest earlier this year, it was fortunate I got to catch Montreal electro-dance duo
UN
(pronounced like the prefix "un-", and one of the most impossible names to search on the internet )who were playing the tiny venue Handlebar in Kensington Market. Consisiting of member
Kara Keith
(whose performed under her own name and with bands like
Falconhawk
) and
Jen Reimer
(and according to her website is sound artist and performer based in Montréal known for creating site-specific performances in resonant urban locations), UN specialize in a spunky synth-pop dance tunes with Reimer's solid, almost metronomic, drum beats and Keith's new-wave-ish vocals. They sparked a fair amount of dancing and leg-shaking for those on-hand and fun times were had. Conceived as a solo project for Keith in 2010, but then adding Reimer shortly after, it took the band three years to release their first full-length, the cheekily named
UN Titled
, earlier this year.(via
ALTSOUNDS
) The band had recently gone to Calgary for the
Sled Island
festival but like most of the bands were affected by the flood but did get to play a backyard show while there with some other bands with all proceeds going to flood relief.(via
Mixtape Magazine
) How good of them. Hope to see them back around these parts some time in the future.
I'd wanted to have caught
Mikal Cronin
's 1:00 am set at the Silver Dollar but the twitter feed was all a flutter that it was packed and I said to myself, screw that, and headed home. In my mind, I'm picturing that scene from
"Lethal Weapon"
and Danny Glover's charcacter Murtaugh saying
"I'm too old for this shit"
. Another NXNE is in the books, but I'll probably be back next year.
Photos:
NXNE in Toronto (June 15, 2013)