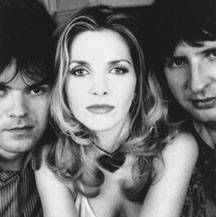 chartattack
reports on the Canadian release of
Saint Etienne
's new album which is scheduled to see the light of day on January 24th in the new year. The Canadian version will feature a slightly different tracklisting than the European release which is already out. News of the band's fanclub CD compilation
"Nice Price"
(whose tracklisting you can see over at
chartattack
or on the
new's page
of the band's website) should also be available in the coming weeks.
video.antville.org
points to a link to a
music video
of Saint Etienne's
"Side Streets"
from the new album. The video is pretty much a walk through London town. Kinda of a weak video actually and the song itself is a little too smooth for my liking(in particular the background vocals) but I like Saint Etienne and I really want to see them live this time around. Please come to Toronto! [photo from
http://../
]
:
:
Jeff Tweedy of
Wilco
performed a
live acoustic session
for
BBC 6 Music
's
Gideon Coe
this morning. They played
"Muzzle of Bees"
and
"I'm The Man Who Loves You"
. Listen
here
(session is about 1 hour and 40 minutes into the program and the link is only valid for a week).
My Old Kentucky Blog
seriously regrets now not asking
The Watson Twins
out when he was in college, now that the girls are cozy with a one Jenny Lewis.
Jenny Lewis and The Watson Twins
release their debut album
"Rabbit Fur Coat"
on January 24, 2006 through
Team Love Records
. The thing's leaked already but I'll just point you to
Radio Free Internet
who has some
mp3's
from the new album.