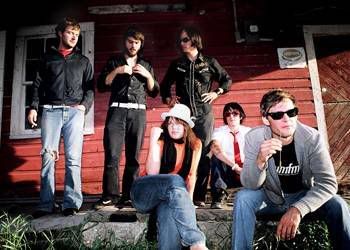 It's come to my attention that Barrie, Ontario's
Doris Day
have come up with a band name change finally. Thank God. I always thought the band name 'Doris Day' worked against them,
for obvious reasons
. I think the new band name will make it a lot easier to search the web for info on them. Drumroll, please...their new band name is
Fox Jaws
. I like it. They haven't yet revamped their
official website
but they do have a new
MySpace
which is currently streaming[as well as making mp3's available for download] a new track["Hitchcock Camera Trick"], as well as a couple of new versions of older tracks["Quarantine Girl", "Warm Winter Coats"] all of which I believe will be included on their upcoming debut full-length [photo from
Sonicbids
]:
MySpace
:
Fox Jaws
It's disappointing to find out that Vancouver's
The Organ
have broken up, as
Pitchfork
points out. Things were really picking up with the band this year and last especially with their 2004 album "Grab That Gun" being picked up for distribution by
Too Pure
in the UK as well as the band's frequent European touring. All I was waiting for was a new album. Pitchfork points to the
CBC Radio 3 blog
which expresses that geography(ie members of the band living in different parts of the country) likely contributed to the breakup. It's times likes these that I wish they had major label money behind them to make it financially possible for the band to continue even though it's members live in different parts of the country. Relive the memories(and read the good-bye comments over at their MySpace):
MySpace
:
The Organ
Thanks to
Chromewaves
for the heads up that
Camera Obscura
will be back in town for a show at Lee's Palace in the new year on January 31. Further thanks to
Brooklyn Vegan
for pointing out that
Merge
labelmates
The Essex Green
will be along for the ride.
Amy Millan
was in KCRW's studio for a session on
Morning Becomes Eclectic
on Thursday December 7, 2006. Joining Amy in studio were band members Dan Whitely, Jenny Whitely, Darcy Yates, Doug Tielli, Sean Dignan, and Christine Bougie. Amy mentioned that
Broken Social Scene
will be taking a break next year[I can only imagine the gasps of all the people who said they were sick of BSS, now saying "No, we didn't mean it...come back!"]
Just a reminder that
The Dears
who are currently in the midst of a US tour jaunt have made time for a couple more Canadian dates this month:
- December 9, 2006 - Waterloo - Starlight
- December 14, 2006 - Montreal - Spectrum
Fellow Canadian music-blogger
Mocking Music
named The Dears "Gang Of Losers" one of the worst albums of 2006. So, so absurd, but Mocking Music, I won't hold it against you.
News on a
Stereolab
-related front - Tim Gane and Sean O'Hagan are working on a soundtrack for a French film, "La Vie D'Artiste", which should be released sometime next year.
AOL Music
has a list of
The 89 Most Redundant, Repetitive Cliches in Music(Because 100 Would Be Cliche)
. The most entertaining time-waster today that I could not recommend more.
Chartattack
reports that
The Arcade Fire
will be performing a couple of live shows in London[UK] in January with Canadian dates to follow in the spring. I hope they play Massey Hall[please God, not The Docks or Ricoh Coliseum].
Update
: The band's
MySpace
shows 5 dates lined up so far in London[UK] from January 29, 2007 to February 2, 2007 inclusive.