concert review
:
Cowboy Junkies
,
Ivy Mairi
@
Live @ Courthouse
(Toronto, Ontario), July 3, 2007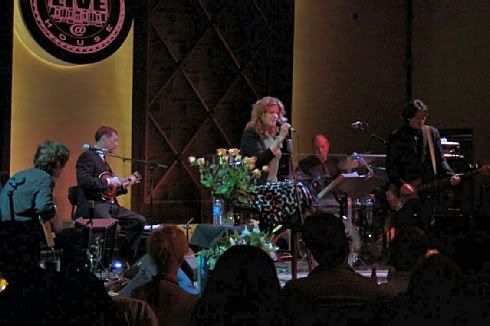 Making good on
a promise I made to myself back in February
to see
Cowboy Junkies
live the next time they played in Toronto, I saw them last Tuesday at the posh Live @ Courthouse in Toronto. Believe it or not, but this was only the second time I ever saw them live, the first being in 1989 at the revolving stage of long-gone Ontario Place Forum. By the looks of the fanbase that was at The Courthouse last Tuesday, the audience(myself included) have aged along with the band. The average age of the audience had to be at least 40, making me(in my 30's) one of the youngest ones there it seemed. Wow, that doesn't happen often. The venue itself apparently was an old courthouse, hence the name, now a jazz club boasting a stage and cozy dinner tables strewn around the floor, with a bar at the back. It's just about the most posh venue I've been in in Toronto. The acoustics were good, at least to my ears.
Opening the show was Ward's Island young indie-folkie
Ivy Mairi
. With her recently released Michael Timmins-produced album
"Hey You"
"Well You" (released on the Junkies' label
Latent Recordings
), Ivy performed a selection of tunes from it spotlighting her charming, fragile vocals and spare guitar arrangements. Sometimes it leaned to far to the folk side of things but the more straightforward melodic pop songs were enticing. She even performed a fantastic cover of
Daniel Johnston
's 'True Love Will find You In The End' with her friend Georgia Webber dueting with her(and whose vocals reminded me a lot of
Jolie Holland
).
It bugs me that it seems that Toronto's Cowboy Junkies are more popular in the US and in Europe than they are in their home country. It's a shame. I'll admit that even I lost interest for a time being in the 90's(although I remain true to "The Trinity Session", "The Caution Horses" and "Black-Eyed Man"). As 2007 marks the 20th anniversary of their landmark "The Trinity Session" I couldn't pass up the chance to see them live this time. Joined by multi-instrumentalist
Jeff Bird
the Junkies performed a delectable selection of tunes. Even though I wasn't familiar with some of the
set list
(some of the songs from their most recent album "At The End of Paths Taken"), much of it was so instantly identifiable with the band's sound, from Margo's hush vocals, Michael's hypnotic guitar sounds, Alan's soothing bass guitar, and Peter's tight drum work. No longer the shy frontperson, Margo seemed quite comfortable in her banter with the audience, much of it actually quite funny and endearing. Her comment about opener Ivy Mairi's songs being about love and such was then offset jokingly by her apologizing for her band's set being emotionally more sad and down, although she blamed her brother Michael(again jokingly) because he writes all the lyrics. A late set segment featured just Margo, Michael on guitar and Jeff on mandolin(if I recall correctly) which was highlighted by an absolutely spine-tingling version of "The Trinity Session"'s 'To Love Is To Bury'. That trio setup also continued into the encore for an awesome cover of Neil Young's 'Powderfinger' before the rest of the band came back on to the stage to finish in fine fashion with the classic bluesy-country of 'Cause Cheap Is How I Feel'. Hmmm, I remember one of the first band t-shirts I ever bought was a Cowboy Junkies one with the phrase/song title 'Cause Cheap Is How I Feel' unassumingly stitched into it. I'm pretty sure I still have the t-shirt somewhere, a little worn but still comfortable after all these years. Seeing the Cowboy Junkies live again after all these years felt exactly like wearing that t-shirt.
Here are
my photos from the show
.
MySpace
:
Cowboy Junkies
MySpace
:
Ivy Mairi
:
:
I'm looking forward to seeing
Glass Candy
in Toronto at The Social on July 26[via
Stille Post
]. UK blog
Yer Mam!
turned me on to them with the lush, classic soul sound of their song 'Rolling Down The Hills'. So infectious, maybe the song of the summer(at least for me). Download/listen to it over at their MySpace:
MySpace
:
Glass Candy
Great Lake Swimmers
are back in Toronto for a show at the Phoenix on September 29 according to Canadian booker
Paquin Entertainment
.
The English Beat
are at Lee's Palace on October 20 and also perform in Oakville at the Oakville Centre For The Performing Arts on October 26. Check out their North American tour dates over at their
MySpace
.