concert review
:
Stars
@
University of Toronto
[back campus], September 7, 2007
Stars performed before a hometown crowd(albeit a frosh concert for University of Toronto) for the first time in over a year last Friday(Sept 30, 2007) afternoon. Performing favourites from their last LP "Set Yourself On Fire" and some new ones from their upcoming new LP "In Our Bedroom After The War"(out Sept 25 on Arts & Crafts"), I realized that I've become quite indifferent to their music. Don't get me wrong - I think they're terrific and I like some of their songs a lot. The new material, except for new song "The Night Starts Here", I haven't actually heard except for what I heard at the concert which hasn't sunk in yet. I do think that frontman Torquil Campbell hasn't lost his touch with his banter with the audience, and that for me was really what made last Friday's show worthwhile. Quipping about his experience as a U of T graduate, introducing a song about "fucking someone to death", or taking a drag from a cigarette then blowing the smoke discreetly through the side of his mouth as if trying to avoid the smoke police from kicking his ass of the stage, these were all the hijinks one could expect to see at a Stars concert. Musically, I thought some of the lushness/atmospheric quality of the recorded material was lost during the live performance but it was a minor setback at that. Funny 'bout kids today, but there was a throng of frosh students that actually didn't stick around for the Stars show and walked away in droves. After the main set(and yes, Stars did come back for an encore), I even recall one student to say to her friend "Do you actually like this band?"(thankfully the other person replied "Yes I love them!) - I can only hope that the person asking the question discovers some good music over the next four years of school.
Check out some photos below. More of my photos from the show
here
.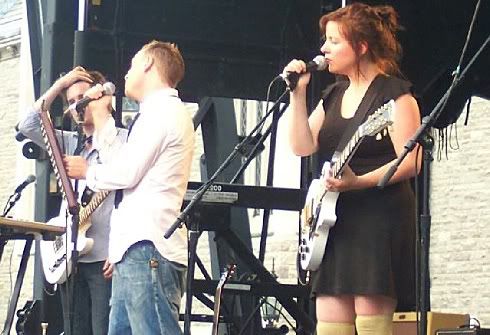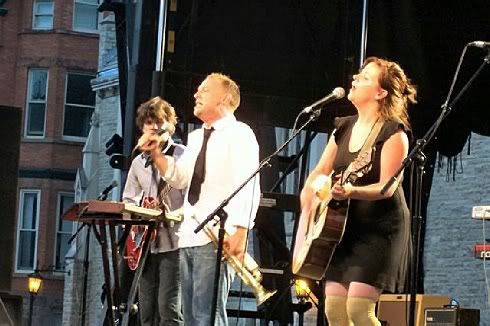 Check out Stars on
MTV Live
who appeared on the show on September 11 for a live performance and interview. (Unfortunately, only Canadian residents will be available to view the link.)
MySpace
:
Stars