concert review
:
Wire
,
The Two Koreas
@
Lee's Palace
(Toronto, Ontario), October 7, 2008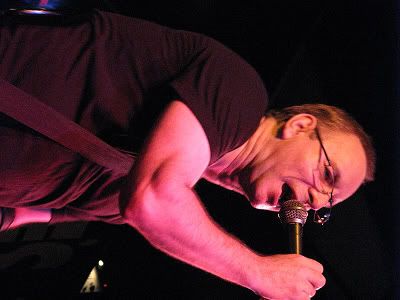 When a band like post-punk legends Wire 1) step on the reunion bandwagon [although as I understand they never really disbanded] and 2) and who's tour actually makes it to your hometown(or within an accessible distance) part of my wanting to go, even if I'm only vaguely familiar with their music, is to get a history lesson of sorts. Wire are one of those bands who I was too young to have even known about in their heyday(late 70's). As with some or even many of you, my first awareness of the band came during the 90's when Brit band
Elastica
were accused by Wire (and apparently resulting in an out-of-court settlement although no compensation according to
Wikipedia
) that they'd lifted snippets of a few of their songs and put it into theirs, notably Elastica's
'Line Up'
having a chorus similar to Wire's
'I Am The Fly'
and Elastica's
'Connection'
taking the guitar riff from Wire's
'Three Girl Rhumba'
- alas both of those Wire songs didn't make it into their setlist at Lee's Palace the other night.
Keeping consistent to the post-punk theme of the night, Toronto's own proponents of the late 70's post-punk period, The Two Koreas opened the night, working their most recent vinyl/digital-only release "Sessions" EP. I do admire The Two Koreas influences (The Fall, Wire, Pavement, etc...) and they do maintain the urgency of their sound with chugging basslines, angular guitarwork and energetic vocals and drums. Perhaps, their sound being too keen on their influences plus vocalist Stuart Berman's perpetual Mark E. Smith-ish sing-speak feels, well - insert criticsm here. In the end, it was probably as appropriate a warm-up for Wire as could be. Local band who cite headliners as one of their musical influences and actually get to open up for them - how cool is that?
I was fortunate to get a snapshot of Wire's
setlist
- I'm not sure how close they stayed to it although I can tell you there were three encores as the photo of the setlist implies. Doing the math, it seems the band devoted much of the set to post-'79 material which is a surprise [although understandably they played a chunk from their most recent album "Object 47"] since as I've read their heyday was between 77-79(with their albums "Pink Flag", "Chairs Missing" and "154" from which they'd only devoted about 6 songs to the 20-song plus set). Founding members Colin Newman (vocals), Graham Lewis (bass), Robert Gotobed (drums) and touring member Margaret Fiedler McGinnis (guitar) showed that what they lacked in musical prowess [although not terrible by any means, and considerably more skillful than on the minimalist post-punk of "Pink Flag", which I picked up this past summer] they made up in sheer enthusiasm. There was no sequential arrangement in song selection, insteading the band choosing to hop-scotch through their catalogue from their early minimalist post-punk days to their later melodic yet muscular indie rock and back again. With a mix of aging alternative/punk fans and younger-in-the-know music fans comprising the audience, there was no half-assed effort on our part to call back the band for each encore and the band graciously did oblige. History lesson aside Wire displayed a vitality that bands half their age are sometimes desperately in need of. Yes, vocalist Colin Newman looks somewhat like your bespectacled school principal in a t-shirt but when he furiously strummed his guitar and half-pogoed around the stage it made me wish I'd seen them in their heyday.
Photos
:
Wire, The Two Koreas @ Lee's Palace (October 7, 2008)
MySpace
:
The Two Koreas
MySpace
:
Wire