concert review
:
The Wedding Present
,
Dirty On Purpose
@
Lee's Palace
(Toronto, Ontario), October 3, 2008
David Gedge of The Wedding Present @ Lee's Palace (October 3, 2008)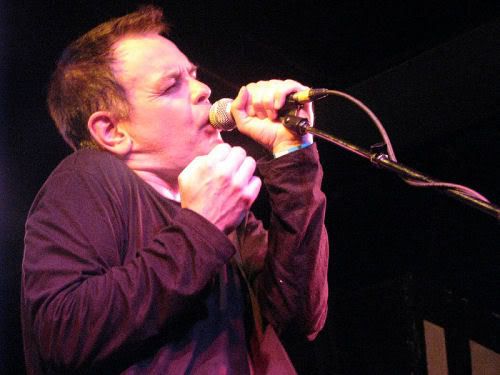 The Wedding Present stopped in Toronto last Friday night for what's now become a regular visit from David Gedge and company, their third visit to this fair city since 2005. As with the two
preceding
shows
, both also at Lee's Palace, Weddoes fans are a loyal bunch and came in respectable numbers even though this time it was an early show. As perhaps the UK equivalent to
Guided By Voices
, The Wedding Present have continued to churn out consecutive albums of ragged guitar pop nuggets for a loyal (sometimes rabid) group of fans, though with each succeeding album they never seem to rise above their cult status. But like Mr. Pollard, you get the impression that Mr. Gedge doesn't give a shit.
NYC's Dirty On Purpose had the unfortunate duty of playing an early opening set to a nearly empty room. From a music standpoint, they build upon The Wedding Present formula of guitars and melodies but do it from a noisier, shoegazey perspective. While I thought they had done an admirable job, perhaps better than most current bands in the same genre, memories of the recent My Bloody Valentine show in Toronto muted my perceptions a bit of Dirty On Purpose's merits. Yes they are good, but playing to a nearly empty room, disappointing to me just for the lack of energy in the room, was likely/obviously disappointing to the band also even if they took it in stride. A member of the band did refer to this visit as part of their annual visit to Toronto, although as
Chromewaves
says, the band likely meant that this visit was part of their annual visit to Toronto playing nearly empty rooms. I can only guess people didn't bother showing up for the band's 8:15 pm start time because they didn't feel like it because there was a respectable number of people onhand when The Wedding Present took the stage.
With a catalogue as vast as there's it's a wonder how Gedge picks the setlist[which was
this
for this show]. A barrage of requests were furled to Gedge several times during the set almost from a respectable point after the start of the set and he jokingly said bassist Terry de Castro painstakingly put together the night's set list so unfortunatley they couldn't play any requests. As if trying to achieve some sort of equitable representation, the set list obviously gave greater representation to the most recent album "El Rey" and touted as their best "Seamonsters" but then like a patchwork quilt, went on to include songs spanning their career including song or two from "Take Fountain", "Bizarro", "Tommy", "Hit Parade", "Saturnalia", "Mini", and "George Best" plus song "You Turn Me On" from Gedge's other band Cinerama. The setlist could have been countless possible configurations and it's obvious they're going to leave something out. They left out "Watusi" entirely but that was my only disappointment. Overall, it was a no frills set of pop songs and the Toronto audience's warm reception.
It's Gedge's everyman approachability that's really charming, and not just because he comes off as the most non-celebrity rock star onstage, but for a person who's been making music for over 20 years it's cool to see him still manning the merch table and making himself available to fans for a chat or autograph after the show.
Photos
:
The Wedding Present, Dirty On Purpose @ Lee's Palace (October 3, 2008)
MySpace
:
Dirty On Purpose
MySpace
:
The Wedding Present