concert review
:
Jenn Grant
,
Kevin Hearn
@
The Mod Club
(Toronto, Ontario) - February 12, 2009
Jenn Grant and friends @ The Mod Club(Feb 12, 2009): photo by Michael Ligon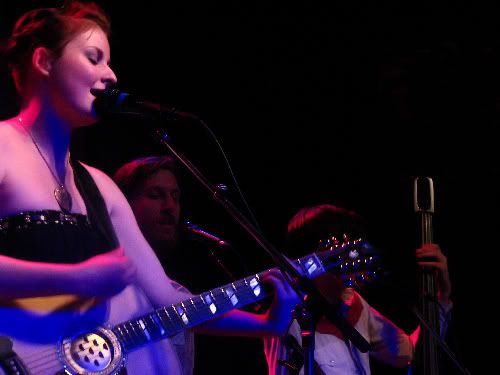 Prince Edward Island's Jenn Grant is poised to reap the rewards of her hard work of writing and touring over the last few years, releasing a quiet gem of an album "Orchestra For The Moon" in 2007 and with her more than worthy second album "Echoes" just being released through Toronto's
Six Shooter Records
. She and her band (which includes Kinley Dowling on violin, David Christensen on bass clarinet, Sean MacGillivray on bass and Gary Craig on drums, and "Echoes" producer Jonathan Goldsmith on keyboards a few times) were at The Mod Club last Thursday night for a CD release show and although she quipped that she only was used to see venues that packed back home where most of the attendees have the last name Grant, I was always confident she'd reached this stage in her career. Her star's just taking off when you come to think of it and it's only going to get bigger.
Opening the show was
Kevin Hearn
whose set with his band Thin Buckle as well as few guests on background vocals and cello(string extraordianaire
Michael Olsen
) turned out to be a pleasant surprise. While his role in the
Barenaked Ladies
always seemed to be limited to his multi-instrumental talents, I'd never have guessed that his songwriting abilities were as good as they were on display last Thursday night. Hearn's vocals never registered louder than a gentle timbre but they suited the music just fine as Hearn competently led his technically proficient band through a set of intelligent mid-tempo folk-rock numbers. Although the instrumentation was mostly organic there were sprinkles of electronic sounds. While I wasn't paying enough attention to the lyrics, there seemed to be some wordplay at hand that fit the melodies like a glove. A very authentic-sounding cover of
The Beach Boys'
'God Only Knows' was a highlight especially during the vocal interplay of the coda as the female background vocalist cooed
"what I'd be without you"
and cellist Michael Olsen sang
"God only knows what I'd be with out you"
over and over. Kevin and band ended the set on his song 'Map Of The Human Genome' that featured just a touch of vocoder, a gentle reminder he can have fun too.
As was on display last Thursday,
Jenn Grant
has become a more confident performer. Though her humbleness and modesty remains, she's traded in some of her nervousness for a very much likable comfort-in-her-own-skin. She skillfully played off some of the audience banter especially that of one overly-enthusiastic individual asking for her to play 'Dreamer' (which we didn't get unfortunately). The evening gown and attire donned by her and her band was a nice touch for the evening's celebration of the new album but also hinted at Jenn's acceptance of her rising star and her willingness to glam it up a bit. The evening was devoted primarily to her new album which was performed just about in its entirety except for her cover of Noel Coward's 'I'll See You Again' which closes the album and is a mere throwaway at less than 10 seconds long. Although her first album "Orchestra For The Moon" has an introspective tone there's more melancholy to be found on "Echoes". 'Heartbreakers' chugged away slowly with David Christiansen's baritone sax in the background while Jenn's desperate 'oh oh's popped up periodically. The acoustic folk of 'Where Are You Now' was guided along with gentle guitar and violin. Jenn's repetition of
"keep your head high"
on 'Everybody Loves You' sounded absolutely desperate. Jenn's cover of
Neil Young
's 'Only Love Can Break Your Heart' was in a word, heartbreaking.
But all was not dour. 'Parachutes' was a mid-tempo playful pop romp with nice ba-ba background vocals. Jenn jokingly made reference to
Dr. Claw
with Sean MacGillivray's sinister bass guitar intro to 'I Was Your Woman' a song that found Jenn's vocals aspiring towards a sultrier, jazzier vibe. '(I've Got) The Two Of You' trotted along with an ever-so slight reggae tinge. It was a slight disappointment not to get many of the older material although it was slight consolation that while 'Dreamer' wasn't performed she did give us 'Unique New York' which has a similar urgency to it. Also adding to the evening was Great Lake Swimmers' Tony Dekker who was in the house to perform background vocals on a few songs.
It's been a pleasure to be a fan of hers since
that day back in 2005 in Hamilton
when she performed as a vocalist for The Heavy Blinkers. With only two albums under her belt now, it really is only the beginning.
Although it'll be an abbreviated set, you can catch her playing a midnight set at the Reverb on March 14 as part of
Canadian Music Week
.
Photos
:
Jenn Grant, Kevin Hearn @ The Mod Club (Feb 12, 2009)
MySpace
:
Jenn Grant
MySpace
:
Kevin Hearn