I wasn't going to let the frigid temperatures this past Saturday night stop me from taking in a few of the free events happening in Toronto. First up I headed down to Nathan Phillips Square to catch some of the evening WinterCity theatrical performance [a nautical-themed piece] , then sets from Shad and Thunderheist.
Shad
, with bassist and DJ, performed some cuts off his album "The Old Prince" and even busted out some freestyle acappella style when his DJ was having some technical difficulties. He asked us if we liked '80's music to which the audience cheered then Shad and band dropped into a cut which used The Cure's "Close To Me"'s familiar keyboard arrangement as a backing track. That only went on for about a minute or so before Shad continued with some old-school hip hop sounds.
Shad @ Nathan Phillips Square(Jan 31, 2009): photo by Michael Ligon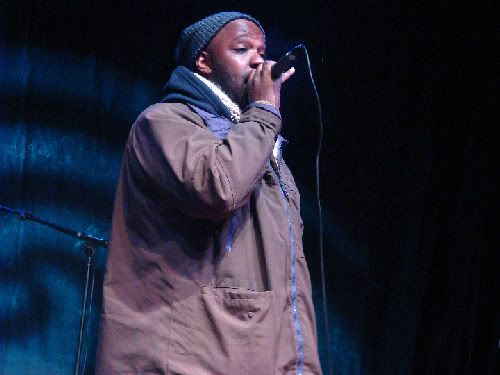 Crowd excitement heightened in anticipation for Toronto duo electro-dance-rock duo
Thunderheist
. Vocalist did her best to get the crowd involved and to dance, if only to stay warm and there were eager ones who were only happy to comply. DJ Graham worked the rhythm tracks on the laptop and did some rudimentary record scratching and at the encouragement of Isis broke out into his funky white boy dance style. Isis invited the audience to stay for the afterparty(a DJ party taking place at the WinterCity Lodge across the way), though as she expressed humourously and as she chuckled, the afterparty would be starting at 9:30. They brought out a drummer for one song though the highlight of the night for me was when the group's all-girl dance crew did some b-girl dancing to several of their songs. Saving the best for last, Thunderheist pulled out "Jerk It" as the audience transformed into a full-out dance party.
Thunderheist @ Nathan Phillips Square(Jan 31, 2009): photo by Michael Ligon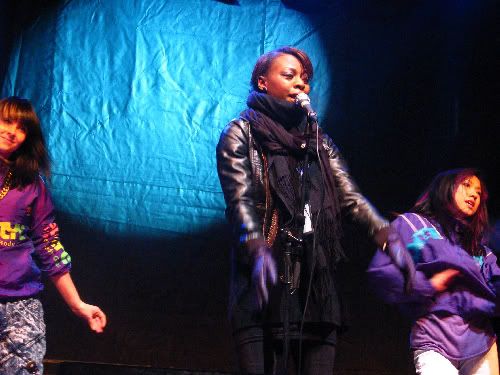 Photos
:
Thunderheist, Shad @ Nathan Phillips Square (January 31, 2009)
After Thunderheist, I jumped on the subway and travelled down to Harbourfront for
CBC Radio 3
's live broadcast at the Natrel Rink. Inside Harbourfront's Lakeside Terrace, a few artists were performing. I got too late to catch Toronto's Castlemusic but made it in time for Oshawa's
Cuff The Duke
. It was a surprisingly light crowd, although it did fill up more respectably by the time Cuff The Duke hit the stage. No new material was played although vocalist Wayne Petti did make reference to the new album. A relatively low-key set of their country-rock tunes, although guitarist Dale Murray displayed some delicious guitar licks. Funniest moments of the night perhaps was when in between songs CBC Radio 3's promo could be heard through the venue's PA, to which Wayne responded that that's a guy they usually kept behind the curtain. Believe me, it was hilarious.
Cuff The Duke @ Lakeside Terrace - Harbourfront(Jan 31, 2009): photo by Michael Ligon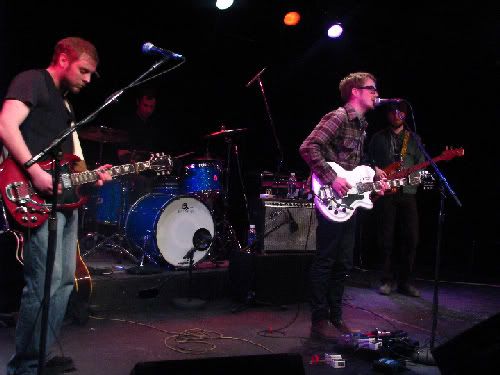 Photos
:
Cuff The Duke @ Lakeside Terrace - Harbourfront (January 31, 2009)