Update [Sept 28/09, 10:48 pm]:
Review now posted.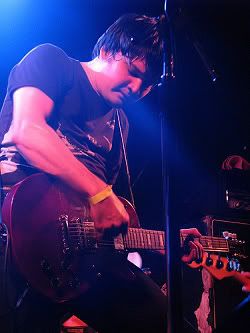 Last Tuesday night's bill at Lee's Palace featuring Trail of Dead and The Secret Machines, if it didn't have a name could have been dubbed the "Fuck You Major Record Labels" tour. When Trail of The Dead's 2002 album "Source Codes and Tags" came out they were on the cusp of stardom with that album and a previous EP prior to that being released by Interscope Records. But after releasing a few more albums through Interscope, the band
left the label
in 2007 due to their perception of their label's lack of support for them. The band went the independent route for their latest album "The Century of Self" released earlier this year in February through indie Justice Records. On the same front, The Secret Machines, after having some initial buzz and having released a few albums through Reprise since their debut album in 2004,
left the label
and released their eponymously-titled third album in October of 2008. I guess this explains why I hadn't heard much from either band recently.
NYC-by-way-of-Dallas trio The Secret Machines opened the show with their brand of spacey, psychedelic, indie rock. Sans Rhodes (apparently, a key instrument of theirs from what I read) and using drums, guitar, bass and vocals, the group still sustained an atmospheric rock quality, sort of like American cousins to Spiritualized. So while the audience seemed a little distant literally and only slightly curious, I was a lot more taken by them since
the first time I'd seen them in 2004 at The Docks
opening for Interpol, when I was more distracted(hey it was The Docks - now known as Sound Academy - same shitty venue). The lamps that provided the backlit illumination on stage did much to create a appropriately mysterious vibe for the accompanying soundtrack, even if it made photo-taking difficult.
It's been
a good four years since I'd last seen Trail Of Dead live
when they played a ferocious show at The Opera House in 2005. Prior to that I'd caught their set at Coachella in 2004, although that's pretty much a blur. The last time they played in Toronto was
earlier this year in March
. However, reading my review of their show in 2005, I was reminded of how intense of a live act Trail Of Dead are. Concentrate that energy into the smaller capacity Lee's Palace and things are bound to burst at the seams.
Hardcore fan or not (I'm definitely more of a casual fan) it was hard not to be drawn into the band's energy on stage. Taking individual ingredients like the double-drumkit assault, lead-vocalist Conrad Keely's bordering on screamo-vocals, drummer/co-vocalist Jason Reece's energetic performance and the unbridgled enthusiasm of bassist Jay Phillips and it was a recipe for an intense show. At other times, they exuded a more introspective tone(relatively speaking) during less chaotic moments. When member Jason Reece held up a cardboard sign with one of their older song titles "How Near, How Far" it was hard not to read into that a certain sentiment that perhaps he was trying to communicate - they were a band who'd always been on the outskirts, even on a major label, and now were going back the indie route. Mr. Reece may have possibly not intended to communicate anything other than the song title itself but the sentiment's appropos nonetheless. A new beginning though it may be for Trail of Dead but they don't seem to mind at all.
chartattack
has a review of the show also.
Photos:
... And You Will Know Us By the Trail of Dead, The Secret Machines @ Lee's Palace (September 22, 2009)
.
Myspace:
The Secret Machines
Myspace:
... And You Will Know Us by the Trail of Dead