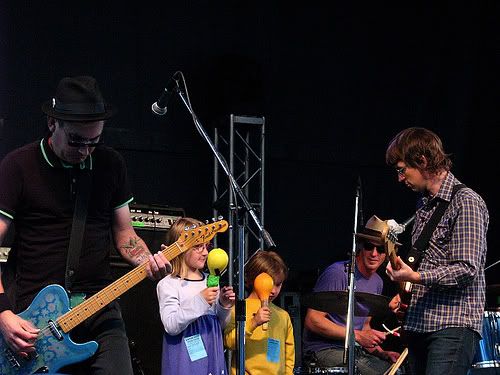 The 'big' show no doubt was U2 at Rogers Centre that night but a few hours prior to Bono and company taking the stage,
Sloan
were outside Air Canada Centre playing the Coca-Cola Zero Fans First Tailgate Party. Sloan and hockey - how Canadian is that? Ok, so I don't watch hockey and I wasn't trying to score free tickets to the pre-season Leafs vs. Bruins game (which the Leafs ended up losing), but rather there just to see Sloan play. Still, in celebrating the occasion it was funny to hear drummer Andrew Scott speak in an abrupt hockey-coach voice and tell the fellas, "ok, we got to step it up". Seems Chris Murphy's had at least semi-recovered from
his recent injuries
, back playing bass at least part of the set, although he'd relegated himself to tambourine and background vox for "Everything You've Done Wrong" and at one point sat out a song which I believe was during one of Andrew's songs. Still with Chris not entirely healed I'm assuming, keyboardist Gregory MacDonald and drummer Taylor Knox (to take over Chris' occasional drumming duties) were still along for the ride since the
last time I'd seen them play
with Sloan at the
Virgin Festival
at the end of August.
It seems as both Sloan and their fans have gotten older, Sloan's shows have become mellower. They're no longer the snotty kids they were back in Halifax in 1991 (by my vague recollections of their earliest interview appearances on Much Music back in the early 90's) even if Chris Murphy seemed like the same likable smart-ass he's always been. Sloan still rocked as they pulled out a bevy of hits like "Everything You've Done Wrong", "The Lines You Amend", "People Of The Sky" and "Money City Maniacs". They haven't approached full-on "dad rock" just yet". But in the literal sense of those words "dad" and "rock", the band brought out two young children, a boy and girl, who I presume were the children of someone in the band(I think they're Andrew's kids) to shake some toy maracas and provide some handclaps for their last few songs. Like the funny uncle, Chris Murphy pretended to unknowingly back into the boy while he was playing bass which had the boy in giggles and then proclaimed jokingly to the crowd that their next song "The Other Man" wasn't for kids, and that the kids should get off the stage which they didn't. A strange but ultimately unique and enjoyable ending to any Sloan show I've ever seen as guitarist Patrick Pentland positioned the mic lower for the children as they took turns, with their unlimited youthful abandon, shouting into it. Future rock stars in the making.
Photos:
Sloan @ Coca-Cola Zero Fans First Tailgate Party outside Air Canada Centre (September 16, 2009)
MySpace:
Sloan