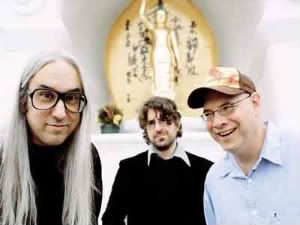 Not a shabby deal at all that for the price of a non-perishable canned good (actually I brought two) for the
Daily Bread Food Bank
, I got to see
Dinosaur Jr
play earlier this evening at
Sonic Boom
in Toronto. However, even though I'd made it to Sonic Boom at least an hour before the band started, it was already packed enough that my viewing options were non-existent. So as it goes I didn't see a thing except for a quick glimpse of J Mascis. No photos from me unfortunately but it isn't a big deal - the set itself was magnificent. J Mascis and Lou Barlow were in the house although taking over drums was Kyle Thomas of the band
Witch
(for which J Mascis drums for); J said that our fair country wouldn't let their original drummer Murph in - I'm not sure if that was a joke but I recall people chuckling. The most interesting facet of the set was that instead of the sonic guitar assault I was expecting [I even came prepared with earplugs], instead the trio performed a rather toned down set mixing drums, bass, acoustic guitar
and muted electric guitar
and guitar-pedal augmented squalls and solos. It was really fascinating actually - it was always sort of difficult to tell whether J was a messy guitar player on their studio recordings since his solos were always buried beneath a sheet of feedback and squall, but hearing him play acoustically I could hear that he was in fact hitting all the right notes. Still the
electric
guitar solos, muted as they were for this instore, were still magnificent. Part of me wishes that I'd just coughed up the money to see them play tonight at their sold-out show at the Phoenix, but hey c'est la vie. The setlist for their instore was as follows (and if anyone recorded this and would be able to send a download link my way, it'd be ever so appreciated):
"Severed Lips" (from
Dinosaur Jr
)
"Get Me" (from
Where You Been
)
"Little Furry Things" (from
You're Living All Over Me
)
"Imagination Blind" (from
Farm
)
"Repulsion" (from
Dinosaur Jr
)
The Wagon (from
Green Mind
)
In other news, Toronto music promoters
Against The Grain
and
Rootmeansquare
have now merged under the name
Collective Concerts
and have even changed their URL to reflect that - now bringing double the value for your music buck, or something like that. The next couple of items are courtesy of Collective Concerts (hmmm, I'm not feeling that name, but in a week I probably won't care anymore):
Portland's
Scout Niblett
will be promoting her newest album "The Calcination of Scout Niblett" out through
Drag City
on January 26 by going on an US and Canadian trek through February and March. She'll be at the Horseshoe on March 17, tickets for this 19+ show are $11.50 in advance ($13 @ Door), and go onsale Jan 22 at 10 am.
As already announced by the
Rocky Votolato
show at The Drake Underground on April 5, ticket info has now been confirmed - $13.50 in advance ($15 @ door) for this 19 + show go onsale Jan 22 at 10 am.
Montreal's
Parlovr
will be returning to Toronto for
Canadian Music Week
in March playing the
Musebox
showcase at Sneaky Dee's on March 11, the
Sirius
showcase at the El Mocambo on March 12, the
Pop Montreal
showcase at the Silver Dollar also on March 12 and opening for
Born Ruffians
at the Phoenix on March 14. I've read good things about the band; I'll make an effort to check 'em out but with the amount of CMW showcase they're playing how could I not at least catch them once.
Woodhands
are at Lee's Palace on March 12, I'd presume as part of Canadian Music Week. Via
Paper Bag Records
.
Thanks to
Consequence of Sound
for pointing to live clips of Ms.
Joanna Newsom
performing new songs in Sydney, Australia recently. Ms. Newsom's new album is entitled "Have One on Me" and is out February 23rd via Drag City. She'll be at the Phoenix Concert Theatre in Toronto on March 13, tickets $22.50 in advance and onsale now.
chartattack
reports that
Jason Collett
will be releasing a companion EP with his upcoming new album "Rat A Tat Tat" out March 9. The companion EP is entitled "To Wit To Woo" and will be available as a digital download and as well as on Collett's upcoming tour. Collett will be in Toronto with
Zeus
and
Bahamas
for a show at Lee's Palace on March 10 as part of Canadian Music Week. You can download a free mp3 from the EP below:
MP3:
Jason Collett - "Little Tiger"
Spoon
were on Mr Conan O'Brien's show recently to perform their new single "Written in Reverse"(via
Pitchfork
). The band's new album "Transference" is out now through
Merge Records
and they'll be in Toronto for a show at Sound Academy on March 29.
Video:
Spoon - "Written in Reverse" (live on Tonight Show with Conan O'Brien, 19 January 2010)
Via
Pollstar
, Durham, NC folk-rock outfit
megafaun
will be at the Horseshoe on April 5 with opener indie-folkie
Sharan Van Etten
from Brooklyn.
NME
has the details on the new album("Plastic Beach, out March 8) from
Gorillaz
. Listen to the first single:
Audio:
Gorillaz - "Stylo"