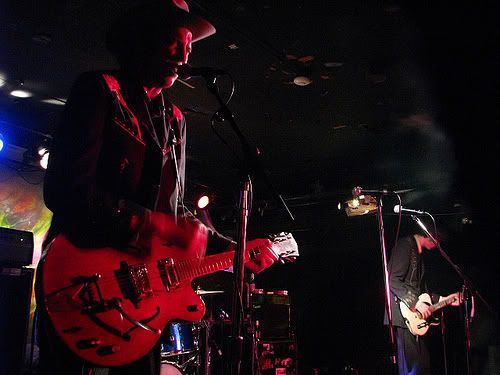 &nbsp
The Sadies @ Horseshoe Tavern: photo by Michael Ligon
It seems that other than my
solitary blog post last week
, this year's blogging has been falling by the wayside. I did have a chance to wade through my photos from The Sadies New Year's Eve show finally. The show wasn't my first choice by any stretch, but having found myself going solo that evening I weighed my choices, narrowing them down to perhaps checking out the indie rock bill at the Tranzac or seeing
The Sadies
at the
Horseshoe
. In retrospect, if I'd gone to the Tranzac I'd probably have ran into some familiar faces so while the lack of familiar faces at the Horseshoe was a little disappointing, I think my entertainment value was more than fulfilled. At least the hour long wait in line to snag a ticket at the door was made more bearable chatting with a dude about Guided By Voices, Amy Millan, Cracker and such.
With ticket acquired, I decided to duck out for some street grub and walk down to Nathan Phillips Square ever so briefly before jumping on the streetcar back to the Horseshoe with openers
The Schomberg Fair
already into their set. While fellow bloggers whose music opinions I respect are fans of them, I can't say I'm there yet. The trio's twang-inflected, gospel, rock is admirable on it's own terms - vibrant drumming, thrashed-out vocals, and twangy guitar and banjo - but I wasn't really feeling it as I should.
While I'm not a really big fan of
Ron Sexsmith
, it was still a treat to catch him in the intimate settings of the Horseshoe Tavern, given he'd just played Massey Hall earlier in the year. Mr. Sexsmith played a low-key solo set with vocals and guitar which only made it more clear how melodically rich how his song's really are. For the purposes of a NYE bash, Mr. Sexsmith was kind of an odd choice, as he's probably more well-known for his mellowness than anything, but over the course of his brief set he kept the vibe loose, a perfect warm-up for The Sadies' marathon session.
I guess I can check 'saw The Sadies on NYE' off my to-do list. While I don't grab their albums to listen to nearly as much as I should, after witnessing their NYE's gig, I must concur that The Sadies are just about the best live band in Toronto. With the Good brothers(Travis and Dallas) decked out in their signature Gram Parson's-inspired embrodiered suits, The Sadies' first set which started around 11:30 pm and lasted about an hour, had it's share of moments but was only a warm-up for their marathon second set which went to nearly 3 am. The Sadies' sets were a blur of musical influences ranging from country, garage, rock, and psychedelia and so expertly played, especially the Good brothers' guitar licks, that labelling the band any one genre wouldn't do them justice. The band's set was a mixture of fiddle playing, twangy-surfy guitar rock, psychedelic jams and straight-up garage rock. At various times, they were joined onstage by Ron Sexsmith, Blue Rodeo's Greg Keelor, and the Good brothers' mom and dad and cousin, but it all felt very loose and unrehearsed, like any good party should feel. As the night wore on, and things got hotter and the band shed their jackets. The sheer endurance they displaed was awesome to watch and really there are few bands that can accomplish what The Sadies can in one night. It was all the more surprising that after their second set ended, the band expectedly came back for an encore and proceeded to play ten more songs. Pure insanity.
Photos:
The Sadies, Ron Sexsmith @ Horseshoe Tavern (December 31, 2009)
Myspace:
The Schomberg Fair
MySpace:
Ron Sexsmith
MySpace:
The Sadies