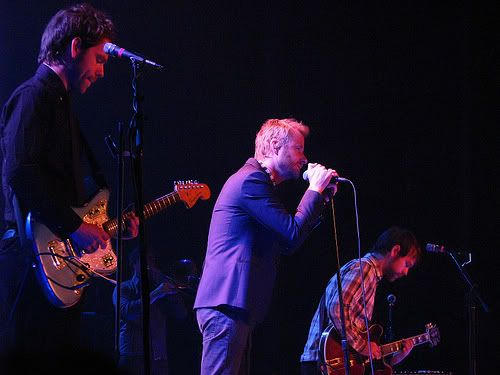 The National: photo by Michael Ligon
It's been an emotional few weeks for me with the passing of my mother but with the support of family and friends I've been getting through it. My mom was quite aware of my fondness for music and concerts and would have not wanted me to let my ticket to
The National
's show last Tuesday night to go to waste, so there I went and it was an uplifting show to say the least.
Openers, Brooklyn trio,
The Antlers
had the early crowd entranced with their stratospheric dream-pop melodies. The band's knack for slow builds leading into crescendoing extended instrumental jams encompassing drums, guitar and keyboards made quite the impact, building upon the impression they made on me when I first saw them live
at the Horseshoe in July 2009
. I liked them enough that I picked up their current album "Hospice" at the show and even got the band to sign it.
Fellow Brooklynites, The National risen through the rungs of Toronto venues, from the Horseshoe, to
The Opera House in June 2007
, the
Phoenix in October 2007
and
Kool Haus in 2009
, myself having seen the band live at the last three venues. Nothing had quite matched the intensity and impact of seeing the live for the first time at The Opera House and when they played the much larger Kool Haus I was disappointed. If anything, you have thank the band for choosing to play a two-night stint at Massey Hall this time around rather than perhaps one show at the larger Sound Academy in Toronto. Rising up to the challenge of playing the majestic Massey Hall, the band were successful in igniting the euphoric emotions I'd felt when I first saw the band play live at The Opera House several years back.
I was fortunate to have a second row seat for the show but thanks to The National's Matt Berninger who near the beginning of the show prompted the audience to stand up, the first few rows of the audience including myself made a beeline to the front of the stage, in turn making the show much more of a visceral experience for me. Mr. Berninger straddled a line between restraint and spastic energy, the latter occasionally resulting in him jumping down amongst the crowd, and at one point right in front of me before he headed through the crowd to congregate with fans within the seats. I've not yet got around to hearing their newest album "High Violet" but their last two previous efforts "Boxer" and "Alligator" got ample respresentation in the
setlist
, to the gleefel satisfaction of the crowd. So with my stage level view, with the band and especially vocalist Matt Berninger rising to the occasion of playing the glorious Massey Hall, it turned out to be one of the most uplifting shows I've seen in a while. And I really needed that.
Photos:
The National, The Antlers @ Massey Hall, Toronto (June 8, 2010)
MySpace:
The Antlers
MySpace:
The National