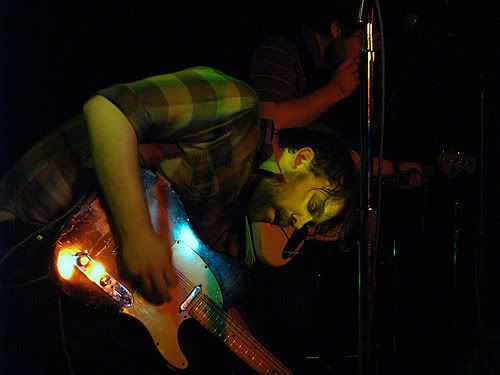 Although aware of the buzz surrounding Frightened Rabbit, I never bothered to read any of the reviews about them. I knew they were Scottish which is always a draw for me because of their country's past fantastic musical output. But something about their band name conjured images of something darker, perhaps intriguing. So it is quite the surprise after listening to their album "The Midnight Organ Fight" recently to find out that they're more musically straightforward than I'd expected. Not to say they aren't good - in fact they're better than most bands who dwell within that rootsy, indie territory. Vocalist Scott John Hutchison's thick Scottish-accent wraps around every lyric with a sense of yearning and there's an urgency to the music combined with memorable melodies that makes it immediately appealing.
Before getting to Frightened Rabbit there was the task of getting through the opening bands. I showed up part way into Ann Arbor, Michigan's
Our Brother The Native
's set. Quirky sounds and rhythms from keyboards, guitar, and drums with a vocalist whose vocals were borderline grating didn't really impress the pop enthusiast in me. The individual elements were actually decent, and there were even hints of melody under the surface, but combined, let's just say it was difficult music.
I'd not been familiar with the next band either, and the particular endorsement by one person who said they were a Pitchfork band didn't get my hopes up. The space in front of the stage filled up quickly for Brooklyn indie-experimental pop 3-piece outfit
The Antlers
and let's just say I was surprisingly impressed. For an opener that night that I actually enjoyed, I have surprisingly little to say about them. They do possess a grasp of melody and restraint that I really didn't expect, their music built on a foundation of drums, guitar and keyboards, with simple but effective vocals. They were energetic enough when they needed to during their more upbeat material but could also easily settle into a more subdued mode during more ambient tunes.
Playing to a sold out show at the Horseshoe Tavern last Wednesday night, prior to the show I'd never have guessed the fervency of
Frightened Rabbit
's fans until I saw it that night. It was one of those nights that one like myself kind of felt left out because it seemed like everyone else knew the words to every song and were singing along enthusiastically. And as each song ended, there was a resounding response from the crowd that definitely had the band feeling good. The band played a sampling of songs off their most recent album "The Midnight Organ Fight" and their 2007 debut "Sing The Years". It's their most recent album which really made an impression on me, and the urgency of songs like 'The Modern Leper', 'Fast Blood', 'I Feel Better', and 'Heads Rolls Off' were particularly satisfying live, propelled by their solid drum beat. The chant of 'Music Now' unbeknownst to me was actually a song request for the song of the same name(off "Sing The Years") which the band did play eventually. The encore was a clincher for the evening if ever I've experienced one. After several minutes of intense applause and cheers from the audience, Scott came back to perform solo the track 'Poke', as he stepped forward to the edge of the stage and sung and strummed his guitar unamplified towards the crowd as the crowd sung along with him with the expected intermittent hollering from random concert-goers. After that the show ended with the rest of the band coming on to the stage to play 'Keep Yourself Warm with the made for singalong lyric
"It takes more than fucking someone to keep yourself warm"
which the crowd sung with enthusiasm.
The setlist according to the
photo of the physical setlist
I took was:
Modern Leper / Fast Blood / Good Arms Vs bad Arms / I Feel Better / Yawns / Twist / Old Old Fashioned / Head Rolls Off / BackWards Walks / Music Now / Floating IN the Forth / Square 9 / Poke (encore) / Keep Yourself Warm (encore)
Photos
:
Frightened Rabbit, The Antlers @ Horseshoe Tavern (July 22, 2009)
MySpace:
Our Brother The Native
MySpace:
The Antlers
MySpace:
Frightened Rabbit