&nbsp&nbsp
Rodriguez @ Harbourfront Centre: photo by Michael Ligon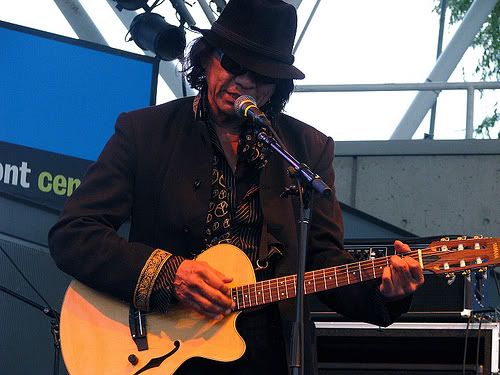 Sixto Rodriguez, who simply goes by
Rodriguez
, has an interesting story. He'd released a couple of Dylan-esque folk-rock albums in the 70's but radio ignored him. However it was two South African superfans of his who'd started a tribute website to him called
The Great Rodriguez Hunt
which one of Rodriguez' daughters had discovered in 1997 prompting her to post a message to its forum and subsequently being contacted by the fans who decided to promote him. Rodriguez toured South Africa a few times and in the past two years Seattle's
Light in the Attic Records
has re-released his albums "Cold Fact" and "Coming from Reality". Talk about second chances. This past Friday Rodriguez performed at the Sirius Stage down at Harbourfront for his
Canadian
Toronto debut [according to
Eye
, his Canadian debut was in Vancouver the week prior]. The story of his re-discovery and descriptions of him as the Brazilian
Bob Dylan
were enough to coax me down to the waterfront to check him out.
The somewhat frail though supercool gentleman was led out by a member of his backing band holding his arm until he got to centre stage. For his
Canadian
Toronto debut, his backing band consisted of some young musicians, a few I'd recognized as members of Toronto's
Steamboat
as well as ex-
Bicylces
bassist Randy Lee taking violin duty this night. A respectable crowd was onhand although not nearly as packed as it could have been but perhaps the dropping temperature[ok, it wasn't freezing but the breeze was enough to create a chill] was enough to keep a few a way that night. As first impressions go, his songs definitely warrant attention - the Dylan comparisons were definitely there[particularly in the inflection of Rodriguez' voice at times] but Rodriguez folk-rock melodies were ultimately his own and they were catchy at that. The backing band competently backed up the songs, notably Steamboat's Jay Anderson's playful drumming and Randy Lee's wonderfully sublime violin arrangements. Wearing a black hat and sunglasses, Rodriguez entertained the crowd here and there with some cool-cat words of wisdom about life and women drawing some chuckles from the crowd. Unfortunately he had to cancel his instore appearance for Soundscapes the following day so until next time he passes through town(and hopefully there'll be a next time), I do recommend you check him out. Funny how life works out, but as Rodriguez has done, when life gives you a second chance you have to reach out and grab it.
Photos:
Rodriguez @ Harbourfront Centre (July 3, 2009)
Eye Weekly
has an interview with Rodriguez and
The National Post
had a feature article on him last week.
:
:
I apologize for not posting any concert announcements or music news lately but with the warm weather and a hectic concert season can you blame me?
The Hidden Cameras
are set to release their new album "Origin:Orphan" through
Arts & Crafts
on September 22. They have some select East Coast/Quebec dates this month. I hope they do decide to play a hometown show this summer(Joel please!). In exchange for your e-mail you can get a
free mp3 download
of new song "Walk On".
I picked up a ticket to
The Hold Steady
's show for Sunday September 26 thinking it'll probably sell out and as I thought it has. Fear not(at least for the moment), but a second show's been added for Saturday September 26, tickets $21.50. I hope the Sunday show kicks the Saturday shows ass.
Mr.
Joe Pernice
had to look no further than presumably down the street from where he and his wife live [ok, I don't know where they live exactly but he does admit living in Toronto's
Little Portugal
] to decide on a Toronto venue for his upcoming tour. He'll be playing The Dakota Tavern on September 15. Ticket info has not been confirmed yet.
In support of their newest album cheekily entitled "Art Brut Vs. Satan" released earlier this year the UK outfit
Art Brut
will be playing Lee's Palace on August 12. Tickets $17.50 in advance onsale this Thursday July 9.
The Minus 5
stop in at The Drake Underground on September 13 with openers Minus 5 offshots
The Baseball Project
and The Steve Wynn IV.
Oklahoma psych-pop outfit
Starlight Mints
drop their new album "Change Remains" on July 21 and will be hitting the road, stopping in for a show at the Horseshoe on August 9.
San Francisco's
Sleepy Sun
, who I'd caught in Barcelona at the Primavera Sound Festival, will be playing The Drake Underground on September 21, tickets $10 in advance onsale July 9.
Olympia, Washington's
Calvin Johnson
and Toronto's
Andre Charles Theriault
will be playing a backyard show in Toronto on July 25. Detail still to be confirmed. Check for updates over at
Stille Post
.
Sweden's
Love Is All
have compiled some of their own video footage into a
neat little video
for their song 'Vans, Vans, Vans' telling the true story of losing four van during their European tour last autumn but still miraculously not missing any shows. Oh, the life of a touring band.