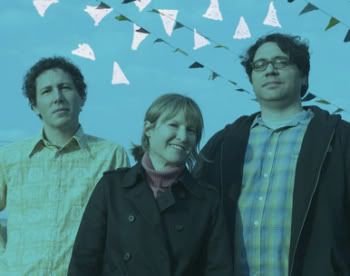 Yo La Tengo
's new album "Popular Songs" is getting Matador Records'
"Buy Early Get Now" (BEGN)
treatment. What you get:
- CD or LP copy of Popular Songs, available for collection at a trusted physical retailer (easily found via the store finder on the front page) or via mail order on September 8.
- the full 128k album stream starting August 4, with exclusive bonus MP3s to follow.
- a vinyl LP featuring Yo La Tengo's Orginal Score from the Motion Picture "Adventureland"
- a poster (design TBD)
For full details go
here
. As just reported, Yo La Tengo have a date in Toronto at The Opera House on October 3, tickets $25. Photo from
www.pitchforkmusicfestival.com
.
As
Brooklyn Vegan
reports Seattle indie-pop band
Throw Me The Statue
are touring with New Zealands'
The Brunettes
with a stop in Toronto on August 30 at a venue still to be announced. Mark your calendars.
Punk Rock Karoake
takes over Lee's Palace on September 3. Check out the official website for the official song list and be prepared to sing along to your favourite punk rock classic. And if I actually had the nerve I'd probably pick
The Undertones'
'Teenage Kicks'
.
Berlin resident / Toronto homeboy
Gonzales
is rereleasing his 2004 album "Solo Piano" as a Deluxe Edition on September 22 through Arts & Crafts. It'll be a 2-disc package with the original album on the first disc and and containing a bonus DVD, featuring the documentary film, "From Major To Minor", "the first long form video to document the outlandish and eccentric universe of Gonzales." To promote the release he'll be playing a hometown show at The Mod Club on September 30.
Kid Koala
plays a 19+ early show(doors 7 pm) at The Mod Club on October 3, tickets $18.50.
A double shot of Portland indie hits The Mod Club on October 6 with
Mirah
and
Norfolk & Western
. Tickets $15.
Vancouver's
Brasstronaut
play Sneaky Dee's on October 17.
As
chartattack
pointed out
Metric
announced upcoming tour dates for Ontario and Quebec for this October including a date in Toronto at Massey Hall on October 20 with openers
The Stills
. And then maybe Metric may have played just about every large sized venue in the city. Next stops Ricoh Coliseum and ACC?
The Raveonettes
are back with a new album "In & Out Of Control" being released through Vice Records on October 6 and they will be in Toronto for a show a the Phoenix on October 22, tickets $18.50.
As
NME
reports, NYC's
A Place To Bury Strangers
release their second album entitled "Exploding Head" on October 6 and will be at The Mod Club on October 27.
Pitchfork
reports that the openers will be
Dead Confederate
, and
All the Saints
.
Barrie indie rockers
Fox Jaws
return with a new album entitled "At Odds (or, Exercises in Separation While United in the Fall)" being released through local indie label
Nevado Records
on August 18 and while no tour dates are on the horizon you know they'll be playing in and around the city a bunch of times.
Portland's
The Gossip
have no date for Toronto lined up but they've always been good to Toronto in the past. And yet I've never gotten around to seeing them. I must remedy that next time they play here although I hope it's not a venue larger than the Phoenix. They have a whack of dates posted on their
MySpace
which will be in support of their new album "Music For Men" being released October 6. The first single is 'Heavy Cross' which is streaming at their MySpace and is featured this week as
iTunes free Single of the Week
.
I got an e-mail the other day about a book called
"Our Noise: The Story of Merge Records: The Indie Label That Got Big and Stayed Small"
(written by John Cook, Laura Ballance, and Mac MacCaughan) coming out September 15 through
Algonquin Books
that I'm looking forward to reading. Hey
Superchunk
(and while we're at it,
Versus
who apparently started recording a new album!), please come to Toronto!
NME
reports that
The White Stripes
documentary "Under Great White Northern Lights" chronicling Jack and Meg White's 2007 Canada tour [remember all those uncoventional locations the band had played] will be premiering at this year's
Toronto International Film Festival
on September 18. You can view the trailer
here
. Jack's
other
band
The Dead Weather
play Kool Haus tonight which I don't believe is sold out.
NME
also reports that UK's
Zero 7
's newest album is entitled "Yeah Ghost" and will be released September 7. It's suppose to be a more uptempo affair. NME has the tracklisting.
Looking forward to the
Frightened Rabbit
show at the Horseshoe tonight. It's sold out by the way, so don't bother showing up if you don't have a ticket. I'm a newbie myself but I was sent a digital promo of their album "The Midnight Organ" just recently and I'm enjoying it a lot. Love the thick Scottish-accented vocals. Nice melodic indie rock with attractive folk and country accents at times. Having not really listened to them that intently until recently, I realize they're more straightforward sounding than I anticipated but still interesting enough (I still wonder if they'd be as interesting if say the vocalist was American rather than Scottish. Hmmm?). Check out the video below (a stripped down, 3-song performance at the warehouse of Fat Cat Records, link via
Brooklyn Vegan
):
Video:
Frightened Rabbit - "Old Old Fashioned", "Good Arms vs Bad Arms", "Modern Leper" (live acoustic @ Fat Cat Records)