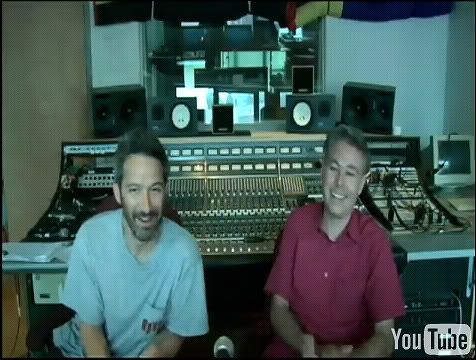 So the big news, and not of the good variety(although there is a bright light) is that
Beastie Boys
' Adam 'MCA' Yauch has been diagnosed with a cancer in his throat, supposedly treatable and apparently he's supposed to have surgery next week, but it means that all their upcoming tour dates for the moment have been cancelled including their headlining slot at Montreal's
Osheaga Music & Arts Festival
on August 2. MCA with Ad-Rock(Adam Horowitz) by his side filmed a short video clip making the announcement about the cancelled tour dates and his current health status and posted it on YouTube. MCA seems to be in good spirits and is totally optimistic, even chuckling during the video. Even more funny was that, MCA apparently hadn't told Ad-Rock the reason he'd asked him to come down to the studio(where they filmed the video), Ad-Rock in his t-shirt and his bed-head responding that he'd been on his couch watching TV. :) My thoughts and prayers are with you MCA:
YouTube:
Beastie Boys' Adam "MCA" Yauch and Adam "Ad-Rock" Horowitz - "Yauch Announcement" [his health and cancelled tour dates]
NME
reports that
Saint Etienne
will be releasing expanded 2-disc versions of their albums "So Tough" and "Sound of Water", the first disc of each being the original album and the second disc being an "...extra disc of session tracks, B-sides and extensive sleeve-notes." Check out the NME link for the tracklisting of each.
Fortunately I'd seen them live
at the
Primavera Sound Festival
in Barcelona in June. It seems like they haven't played Toronto in ages.
Kicking off a cool online music sessions series entitled
"Uncovered"
over at
Playboy.com
are
Dinosaur Jr.
doing an acoustic version of The Cure's 'Just Like Heaven'. Future session will feature other interesting acoustic covers including Murray Lightburn of
The Dears
performing a cover of
Emily Haines
' 'Doctor Blind'. To preview upcoming sessions, click
here
. Dinosaur Jr. bring it amplified to the Phoenix on September 30.
A lot of concert announcments(via
Against The Grain
&
rootmeansquare
respectively):
Brendan Benson
will play The Mod Club on August 24, tickets $13.50 in advance and $15 at the door. His new album "My Old, Familiar Friend" is out August 18.
Yes they are still around,
Living Colour
are sure to bring out the nostalgia hounds when they play Lee's Palace on October 3. Wouldn't it piss some off if they
didn't
play
'Cult of Personality'
? Tickets are $29.50 in advance and $35 at the door, either way a hefty price. As
Reuters
reported earlier this month, the band are readying a new album, their first in 6 years.
The Slackers
bring their rude-boy sound to Lee's Palace on October 9, tickets $17.50 in advance and $20 at the door.
Australian indie guitar-drums duo
An Horse
return to Toronto for a show on at The Drake Underground on September 11, tickets $10. They'll also play the Rifflandia Music Festival in Victoria, BC which takes place Sept. 24 to 27[via
chartattack
].
Having just played the El Mo recently,
Japandroids
have already lined up another Toronto show for September 19 at the Horseshoe with
Mt. St. Helens Vietnam Band
and
Metz
, tickets $10.
Hour.ca
speaks with the band.
Seminal Brazilian Tropicalia band
Os Mutantes
will be playing The Opera House on October 2, tickets $25. 19 + show. The band'll be celebrating a long-awaited new disc(their first in 35 years) entitled "Haith" to be released through ANTI- on September 8.
The following day(Oct 3) at the same venue,
Yo La Tengo
will be playing, tickets $25. Their new album "Popular Songs" is out September 8 on Matador Records. An mp3 of a song from the album is available below(it was also
NPR
's "Song Of The Day" on July 17):
MP3:
Yo La Tengo - "Periodically Double Or Triple"
Already reported by
Chromewaves
, but what the heck I'll post it again -
The Twilight Sad
,
BrakesBrakesBrakes
and
We Were Promised Jetpacks
hit the El Mocambo on October 10, tickets $12.
They must love the Phoenix Concert Theatre as
Peter, Bjorn and John
seemed to have played it umpteenth times and will do so again on November 11, tickets $20.
Amy Millan
returns with her sophomore full-length, "Masters Of The Burial", on September 8 and will play a CD release show at The Mod Club on October 14 with openers
Bahamas
. She'll being playing a free show down at Harbourfront Centre this Saturday July 25 as part of the
Canadian Voices
festival with opener
Gentleman Reg
.
The most recent
Wilco
mailing list update that some Fall show announcments should be made later this week. Also, look out for Jeff Tweedy on the next cover of
Spin Magazine
with accompanying cover story. Wilco played just over the border a few nights ago at Artpark in Lewiston, NY.
The Buffalo News
has a review of the show.