&nbsp&nbsp
Jenn Grant and friends @ Harbourfront Centre: photo by Michael Ligon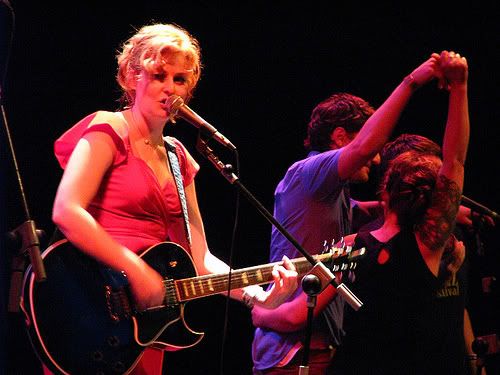 It's rather natural for me to
harken back to that day at The Casbah in Hamilton, Ontario in 2005
when Ms.
Jenn Grant
performed with Jason Macisaac and David Christiansen both of
The Heavy Blinkers
, performing Heavy Blinkers songs as a trio. It was a rather sparsely attended show but once Jenn sang I was totally blown away. With Jenn's own material(especially her first two albums "Orchestra For The Moon" and "Echoes" respectively) she's displayed her more than capable songwriting abilities, and whether her songs touch on pop, folk, or roots, it's the fact that they're memorable that ultimately makes her indispensable within the Canadian music landscape.
From her humble beginnings, it's amazing as well as deserved that she got to headline the main stage at Harbourfront Centre for the first night of the
Canadian Voices
festival. I'd got there late and only caught a few songs. During my brisk walk towards the stage I could hear Jenn play sinister, torch-pop of 'I Was Your Woman'. If I remember correctly she and her band also performed the bouncy 'Parachutes'. I couldn't forget her capable rendition of
Neil Young
's 'Only Love Can Break Your Heart'. Nearing the 11 pm curfew, an enthusiastic crowd response prompted Jenn and band to attempt to play another song, but to no avail. Even CBC Radio's Grant Lawrence came onstage, appearing to tell Jenn Grant that they weren't allowed to play another song. It did seem that she actually tried, but with no success as the mics were no longer on. But in a surprising turn, as patrons were already leaving, she and her band came back on to the stage motioning to the crowd that they were going to play one more song but unamplified. So the proper sitdown show turned into an intimate shindig as her and her band gathered at the centre of the stage with a bare minimum of instruments(I think there was maybe a clarinet, violin, and someone with a percussive instrument of some sort) and motioned to the crowd still there to gather around them, which meant that people tried to get as close as possible to hear her, even if it meant standing on the seats. Once we all positioned, myself standing on the edge of one of the rows of seats, Jenn with a few other singers and with the sparest of musical accompaniement, launched into a casual and fun cover of
Wilco
's 'Jesus, Etc'. Although I'd missed most of the set, that last song made the trip down all worth while.
Now if anyone has video of Jenn and friends performing that Wilco cover, I'll be eternally grateful.
And, by the way, Wilco play Massey Hall on October 14.
Photos:
Jenn Grant @ Harbourfront Centre Sirius Stage (July 24, 2009)
More photos from the show over at
The Singing Lamb
. The Singing Lamb also had an
interview
with Ms. Grant.
Upfront
, The Harbourfront Centre Blog, posed 12 questions to Jenn, to which she have 12 succinct answers
It looks like Jenn's taking a break from touring for the rest of the summer, but you can catch her durnig some east coast dates starting the end of September into early October - check out her MySpace.
MySpace:
Jenn Grant