&nbsp&nbsp
Neko Case's stage set @ Massey Hall (July 14, 2009): photo by Michael Ligon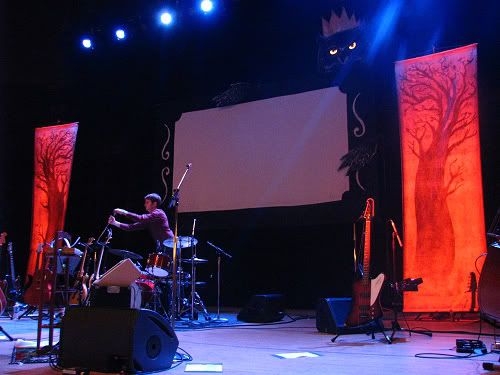 Foiled again by Ms.
Neko Case
's no-photos policy it was a bitter pill to swallow considering I had scored a front row seat for her show. Hey, but what is one to do? There was a time when I'd go to shows and not have a camera at all. So there was only for me to sit back and take it all in. It was just
April 17 of this year since I'd last seen Neko live at Trinity St Paul's Church
, itself a fabulous venue to see Ms. Case, but yes
Massey Hall
does trump it in spades.
Jason Lytle
ex of Grandaddy and his band opened the show with their laid-back Californian take on Americana. With Jason's voice sounding a little like Neil Young at times, he had full grasp of melody throughout his songs, performed with keyboards, drums, guitar, and bass. At his most playful like on "Yours Truly, The Commuter" which combines a simple but effective keyboard melody with a more uptempo beat they were most enjoyable. However, the set suffered from a lack of energy(slower tempo songs / hardly any banter) which with it being dark and me sitting down, had at least myself almost falling asleep. If I recall, his only banter was mentioning that as any good American tourists would do, they'd be visiting Niagara Falls. Hey, wouldn't it have been more appropriate to say instead, the CN tower? I'm sure that'd probably have gotten a response out of the crowd. While I thought the response between songs was positive, as much as I appreciated and liked Jason Lytle's music, I didn't feel much investment in his set.
As could be expected for most artists who make their debut at Massey Hall, one could perhaps be a little nervous. Neko was definitely humbled and a bit of jittery when she stepped out onto the stage as the crowd roared with excitement. Neko wore a brown mini dress, with white translucent stockings and red heel shoes, with her fiery red hair falling over her shoulders. While Neko's nervous energy was most apparent between songs with several utterances of "oh my god" and "Massey Hall" within the same breath, Neko was able to get into a zone with each song performed. Her vocals soared amidst the acoustics of Massey Hall, sounding better than I've ever heard and the double-shot of "Blacklisted" tunes, 'Deep Red Bells' and 'I Wish I Was The Moon' steeped in their dark romanticism, were the best examples of Neko's exemplary vocals that evening.
Of course the setlist leaned heavily on Neko's most recent album "Middle Cyclone" and her previous "Fox Confessor Brings The Flood". We were fortunate that night that Ms.
Kelly Hogan
was in the house as apparently she'd been off(why?) but I almost can't imagine a Neko Case show without her, her role as a talented background vocalist as well as her role as comedic sidewoman(even Kelly jokingly referring herself as a '
fluffer
') being firmly established. Kelly gave several shout-outs to Toronto's
The Sadies
that drew a cheer from the crowd. Neko and friends thankfully performed a few Sadies-penned tunes including
'If I Knew'
'If You Knew' and 'Hold On, Hold On' two dark uptempo twangy numbers which are two of my favourite Neko tunes. It did make me realize that while Neko's current band(Paul Rigby on guitar, Tom V. Ray on bass,
Jon Rauhouse
on pedal-steel, Barry Mirochnick on drums) are more than capable, they don't necessarily exude the energy of Neko's past backing band / Boyfriends membership. Of her current backing band, I was most impressed with guitarist Paul Rigby and his fluid guitar playing especially his fully-fleshed acoustic guitar picking on the stark 'Vengeance Is Sleeping' during the encore. As well, Jon Rauhause displayed a ferocity on his pedal steel at times(especially during 'Deep Red Bells') that earned him some audience hollerin' directed at him on a few occasions.
If anything was lacking during the evening was the lack of banter at times especially during Neko's frequent guitar changes between songs. This resulted in the pacing of the evening at least during the first half of the set being off. So while Neko's music and vocals alone were enough to be euphoric at times, it just seemed that sometimes we(or at least I) was twiddling my thumbs waiting for Neko to say something funny or at least start the next song quickly. It was really only during close to the second half of the set did the banter seem to pick up. Neko jokingly commented how Toronto's garbage strike was the cleanest garbage strike she'd ever seen. Later on, Neko's comment about Kelly's new bra seemed to lead into a hyper-spontaneous dialogue recitation between Kelly and Neko from I believe "Best Little Whorehouse in Texas" - I know Neko mentioned something about Dolly Parton.
Did Neko conquer Massey Hall? Well, not quite. It was a humble debut that straddled the line between her nervous energy and her exquisite vocals. If anything her nervous energy was endearing. I've seen better shows of hers but really she's never had a bad show.
CityNews
,
NOW
and
chartattack
all have reviews of the show.
MySpace:
Neko Case
MySpace:
Jason Lytle
Exclaim
reports that Neko Case has recorded an
iTunes exclusive
featuring "...six newly recorded live tracks spanning her half-dozen albums, a cover of Harry Nilsson's "Don't Forget Me" and studio tracks picked from her recorded output", and also includes "...some spoken word explanations of her songs."