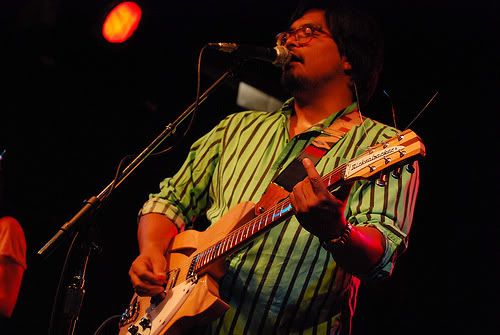 Richard Baluyut of Versus: photo by Michael Ligon
It was a 90's
Merge Records
comeback as Chapel Hill's
Polvo
and Brooklyn's
Versus
took over
Lee's Palace
last Friday night. The 1990's was my coming of age period in terms of indie rock, and Versus(along with
Seam
,
Aminiature
, and Toronto's own
Venus Cures All
) was one of the the first real indie bands I saw live when they played the El Mocambo in 1995. During that period I started to discover indie record labels such as Merge Records who offered a roster of acts that were extremely exciting, if not musically but also for their D.I.Y. ethic towards touring and recording, and the associated culture of zines that helped to build the indie rock scene one fan at a time. It was a really special period. While Polvo also sprung from that same period, it's not too surprising that I never latched onto them given their tendencies towards math rock(a term I've read they don't like) a genre I was never particular towards, but having seen them live for the first time last week, their musical quality was more than evident.
Lately, I've had a bad habit of missing opening acts, and this time it was Toronto's
Soft Copy
. One of these days I will catch them. Fortunately I made it in time for Versus who were up next. Taking the stage were core members Fontaine Toups and Richard Baluyut with touring member Margaret White on violin and keyboards. It was was that setup, with Richard and Fontaine on guitar and bass respectively and both on vocals, along with Margaret that performed the first few songs drumless, the songs obviously leaning towards a sparer version of the band than I'm used to hearing.
Richard let it be known to the crowd (which at this point was no where near full as it should have been) that his brother and the band's drummer Edward Baluyut could not make it because he had to go back home as his wife was giving birth to their baby. Fortunately, the opening band Soft Copy's drummer Paul Boddum took over on the spot, having not even rehearsed with the band, and did an admirable job filling in, occassionally at the beginning of a few songs having a quiet discussion with Richard as to what sort of rhythms to play. The band's newest album entitled
On the Ones and Threes
released this year on Merge is their first record in ten years since their last LP
Hurrah
, the new LP providing the impetus for touring again and providing much of the setlist. Having not heard the new songs until that show, it sounded like classic Versus - alternating lead vocals between Richard and Fontaine, nice melodies, a little muscle balanced with some finesse in the guitar arrangements, and a good sense of dynamics showing the band are just as adept at subtlety as they are at turning it up. It was the old favourites that I was most excited to hear such as "River", "Blades of Grass" and "Fallow" off of their debut 1993 debut full-length
The Stars Are Insane
. Obviously there were some people in the crowd that were excited to see the band live again(some who I'd imagine might have been at that same Versus show I was at at the El Mo in 1995) but it was a generally disappointing turnout. Of course they were never the biggest band around even back then and taking a ten year gap between albums doesn't necessarily help either.
There was obviously a reason why Polvo was headlining the night as after Versus' set, the venue quickly filled up comfortably. Having broken up in 1998 and then quietly reuniting in 2008, I presume there were some in the audience who didn't think Polvo would come to Toronto, so for them this show was a special treat. For me, having not really listened to the band at length, it was a history lesson. Not nearly as harsh or dissonant as I expected, while there was not a vocal melody within earshot at least from what I recall, the guitar, bass and drums were presented with mathematic precision that gave the songs somewhat of an accessibility. At times, the instrumentation was less angular, giving the impression of the band on the brink of playing a more conventional rock tune, although for the most part staying the course, and perhaps all the better for it. Whereas crowd reaction during Versus' set seemed sporadic due to the lighter crowd, Polvo induced a generally more enthusiastic response, prompting the band to come back for an encore. The band released their newest album
In Prism
through Merge Records in September 2009, and like Versus with their newly released album, it looks like they're both here to stay. Polvo and Versus fans are rejoicing everywhere.
Photos:
Polvo, Versus @ Lee's Palace, Toronto (August 13, 2010)
MySpace:
Versus
MySpace:
Polvo