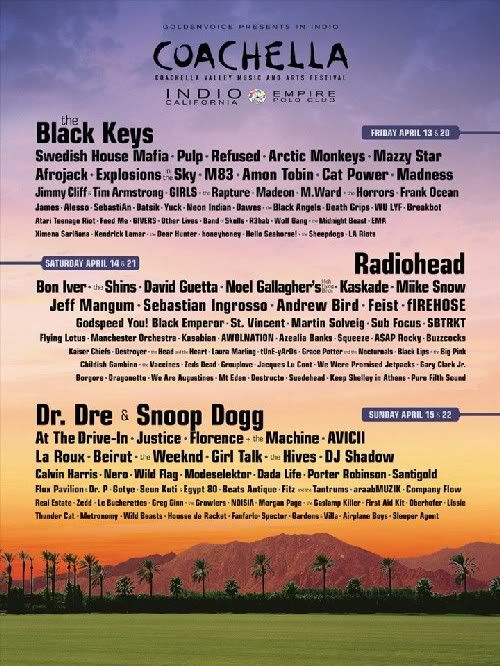 Curing the post-holiday blues, a late date announcement brings
news of this year's lineup
for
Coachella
taking place as usual on the grounds of the Empire Polo Club in Indio, California. In an interesting move but odd move, the festival this year will be
replicated
over two weekends, first on the weekend of April 13-15 then the next weekend April 20-22. I imagine that festival organizers want to be able to accommodate as many ticket buyers as possible, but doesn't having the festival occur on one weekend and then having the whole festival replicated the next weekend make the whole festival, less special? What if the first weekend is better [weather-wise, performance-wise, what have you] than the second weekend or vice versa? What if scheduled performers, for what other reason make it out only to one weekend? It looks like a formula for someone to feel jipped. Musically, there's a good mix of artists that I think will appeal to the average music festival-goer - your reunions (
Pulp
,
Refused
,
Mazzy Star
,
At The Drive-In
), your current heavy-hitters (
The Black Keys
,
Radiohead
,
Bon Iver
,
Dr. Dre
&
Snoop Dogg
) and a whole slew of current buzz-worthy acts. The Canadian contingent this year will include
Feist
,
Godspeed You! Black Emperor
,
Destroyer
,
Zeds Dead
,
Dragonette
,
The Weeknd
(will
Drake
make a surprise appearance perhaps?), and
The Sheepdogs
. I haven't gone to the festival since my one and only time in 2004 and I don't imagine going this year but if I do reconsider it's only because I'd want to feel that warm Californian sun on my face and soak up the good vibes. Coachella is about music foremost but it's also about the experience. If you've never gone and if at least a few of the acts are worth your while, my suggestion is, GO. There is nothing like Coachella. On the other hand, it is three hot days and nights in the desert. I think I may just watch the webcast.