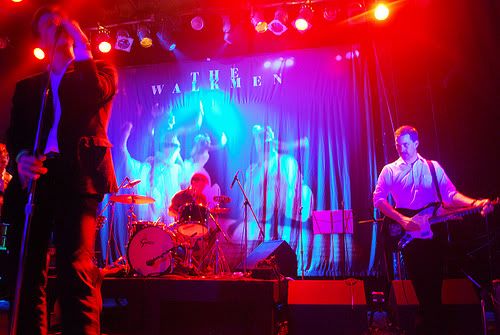 &nbsp
The Walkmen @ Phoenix Concert Theatre: photo by Michael Ligon
In celebration of 10 years as a band since the release of their debut album,
Everyone Who Pretended to Like Me Is Gone
in 2002, NYC's
The Walkmen
embarked on a tour earlier this year, with Toronto making the cut for a stopover. With six albums to date, their last being 2010'
Lisbon
and with a new album scheduled for later this year, the band had much material to choose from when they stopped over for a show at Toronto's
Phoenix Concert Theatre
a little over a week ago.
With no opener, and the night being billed as "An Evening With The Walkmen", the band divided the night into two sets with a short intermission in between. In all honesty, I'm really not that familiar with them but their their 2004 single "The Rat" (which the band busted out as their second song of the night) I will state is one of the best rock n' roll singles of the last 15 years. It seemed a little premature to bring out "The Rat" so early but the band did a admirable job representing all aspects of their sound throughout the night, from other garage-influenced rock n' roll songs, to mariachi-flavoured tunes(including a four-member horn section), and more mellow, troubadour-style numbers. Overall, it was an invigorating evening. As a tenth anniversary celebration (since the release of their debut album), it seemed less of an event (except for the unconventional two-set format) than it should have been but then again, the band aren't calling it quits just yet, with plans to release their seventh album later this year. Let's see what they have up their sleeve next.
Check out more reviews of the show over at
NOW
,
Exclaim
, and
The National Post
.
MySpace:
The Walkmen
Photos:
(An Evening With) The Walkmen @ Phoenix Concert Theatre, Toronto (March 2, 2012)