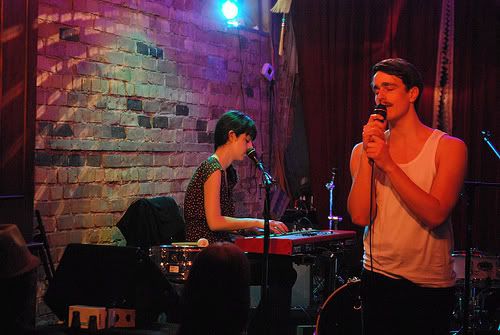 Sea+Air @ The Painted Lady: photo by Michael Ligon
Another year's edition of
Canadian Music Week
/
Canadian Musicfest
has come and gone and one of the most striking aspects of this year's edition as how mild the weather was. It was pretty much the mildest weather for Canadian Musicfest I've ever experienced to the point it almost felt like
NXNE
. Consider that, in stark contrast several years back, The Breeders, who were on their reunion tour stopped in during Canadian Music Week to play a show at the Phoenix Concert Theatre, right smack dab during a blizzard (well, heavy snowfall). While the weather was on our side, the major criticism of this year's festival was how less enticing the lineup was. To some extent I'd agree, but on the other hand, with a little research and a little luck I think I caught a good percentage of good to great acts. All's well that end well. Over the next week or so I'll be posting my reviews of each night of Canadian Musicfest, so stay tuned. Now let's begin.
Somehow I'd confused the
Cold Specks
show at
The Music Gallery
to be on the first night of the festival (Wednesday March 21, 2012) and after work killed time for a few hours until later on in the evening to head over to The Music Gallery. Little did I realize that the show was actually the NEXT night (after consulting the internet on my phone). Fortunately I did have other options for the night and so proceeded with those.
First stop of the night was, the
Cameron House
backroom which all these years I'd never been to. Already into their set when I arrived was Toronto's
LOOM
, aka singer-songwriter Brooke Manning. Playing with two other members as a trio, with Brooke on vocals/guitar, the songs were full of ebb-and-flow sonic washes of keys, strings, guitar and vocals. The vocals/lyrics weren't to the extent of being inaudible but Brooke's laidback timbre did definitely possess a quality of being another instrument in the mix. Given the intimate-sized venue thankfully people did come out early to catch her. Pretty at times, and more difficult listening at others [it wasn't always as melodic as I would hope], but it was definitely intriguing music.
Fortunately, I didn't have to travel at all to catch my second pick of the night which was Dutch singer-songwriter Thijs Kuijken whose band name is
I Am Oak
. And while later on in the set he would mention to the audience that he usually performs with a band, for this set he was playing solo with just him on acoustic guitar. A slim, bespectacled gentleman, dressed casually in a plaid shirt and light jeans, his set of acoustic, folk-ish tunes were in my opinion several notches above what could be easily have been dull material. Lyrically as well as Kuijken's acoustic guitar playing were great overall but my only criticsm really was that vocally Kuijken's nasal vocals, quite adamantly located midrange in the vocal spectrum, made the whole set blend into each other. It's a similar effect when I listen to someone like
Mark Kozelek
for example, if that's any help. On a non-music note, Kuijken humoured the audience with his observations like how less hectic CMW was compared to
SXSW
(but in a good way), how QUIET the audience was and how POLITE Canadians are, how he brought too many sweaters on his trip and not enough socks and that he bought socks earlier in the day and asking us if we have any pigeons in Toronto, that last query being in reference to a song he had just song which was I believe above doves or birds or something.
After a comfortable stay at the Cameron House, the venue-hopping portion of the night began as I jumped on the streetcar to head to westward to
The Painted Lady
on Ossington Ave. to see German duo
Sea + Air
. The Painted Lady one of the city's most intimate venues, I'd expected it to be comfortably packed like when I saw when I saw Australia's Dead Letter Chorus there at last year's Canadian Musicfest. The venue was by no stretch empty but there was a little more elbow room this time compared to when I was there last year. The duo comprised of Daniel Benjamin on vocals / guitar /drums and Eleni on vocals / keyboards performed material with a sensitive, baroque pop quality, with Eleni's intricate keyboard arrangements and Daniel's forlorn vocals. A little sombre at times, but then again the duo showed their versatility especially when Daniel switched to the drumkit eventually segueing into a bombastic drum performance that reminded me a lot of Toronto's own Paul Banwatt of
Rural Alberta Advantage
. It took me by surprise, as well as a few others. It was an enjoyable if brief performance. Daniel did have a few humourous bits of banter including calling their album at the merch table the best thing to come out of Germany in 40 years and then later on informing the audience about their upcoming Canadian tour which'll take them to good cities like Saskatoon; for some reason that last part drew a chuckle from a few audience members.
I'd intended to call it a night, but with the mild weather, the time still being before 11 pm, and finally with my energy level still being pretty good for a Wednesday night (even with having to work the next day) I decided it might be a good idea to try to check out one more set. I decided to check out Toronto's
Young Empires
who were playing
The Great Hall
Basement not too far from The Painted Lady. I'd never been to the basement venue of The Great Hall before. A somewhat dingier venue than The Great Hall's upper level facilities, it was a more than appropriate setting for an electro-dance-rock party. I arrived there just as psych-rock outfit
Krief
were finishing up and after some time setting up, Young Empires finally took to the stage. The venue was a little-less than half-full when I arrived but did fill up more by the time Young Empires reached the stage. To capitalize on their recent wave of success (the release of their first EP, recent radio-play, touring and such), the band and especially frontman Matthew Vlahovich exuded energy on stage to try to get the crowd along for the ride and yes there were definitely some who were really into it. However, in my opinion, there's a quality on record that doesn't quite translate onstage. Their best song, in my opinion, is still "White Doves" which on record has a quality that I imagine should rev up even a Glastonbury-sized audience but then hearing it live (and this time being the third time I've seen the band) it just doesn't match up to those euphoric expectations. The band's strength, in my opinion, lies in their musical direction, their fusion of electronic, rock and pop influences somewhat mirroring one of my favourite acts of all-time, New Order. But with only an EP's worth of material, with most of it ranging from alright to decent but not matching the greatness of "White Doves", the band are off to a good start but still have a long way to go. I wish them luck.
PHOTOS:
Canadian Musicfest (Wednesday March 21, 2012)