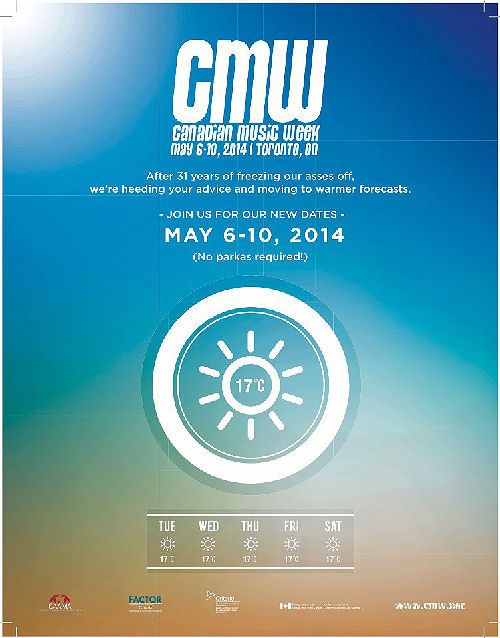 The music festival that most people love to hate,
Canadian Music Week
(CMW), have revealed through their
Facebook
, that next year's festival in 2014 will be be taking place May 6-10. Yes, it is a plus that it will be in a warmer month, but it appears the organizers have chosen to the ignore the
myriad of other criticisms
that people have of the festival overall.
The fact that CMW took place in March was never really a concern for me; March could be cold, it's Canada, and I think people just have to suck it up. The fact that CMW took place in March meant something to look forward to earlier in the year. I'm more concerned that next year's CMW is about a month before
NXNE
which takes place in June. The buffer between the festivals will be much shorter and I'm wondering how this will effect artists / bands who consider registering for these festivals. Will the net effect be that NXNE, which seemed to be really hitting it's groove over the last 5 years, will now lose some of that momentum to CMW? I am also concerned with the potential that CMW might overlap with
Hot Docs
, which traditionally starts at the end of April and into early May, or at the very least, having no recovery time between attending Hot Docs and CMW. I guess we'll have to wait and see how it goes next year.