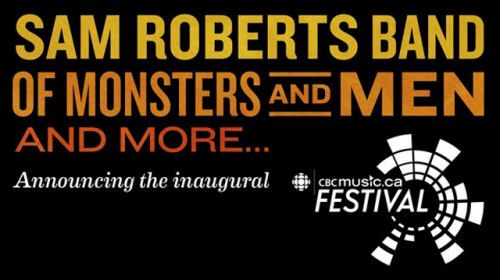 via
CBC.ca
There's a new music festival in town and it's all-Canadian...almost.
CBC Music
, the streaming music service of CBC/Radio-Canada, which recently celebrated its first year in operation, will be curating and hosting its own music festival called CBCmusic.ca Festival [doesn't quite roll off the tongue, hmmm?]. It will take place at Echo Beach in Toronto on May 25 on two stages, with doors opening at 2 pm and the music starting at 2:30 pm. Co-headlining the festival are Montreal's
Sam Roberts Band
and Iceland's
Of Monsters and Men
(the only non-Canadian act of the lineup). Rounding out the lineup are
Kathleen Edwards
,
Sloan
,
Jarvis Church
, blues/jazz vocalist
Shakura S'Aida
, country music band
Corb Lund and the Hurtin' Albertans
, up-and-coming Montreal indie band
Half Moon Run
, Inuit singer
Elisapie
, Victoria-based songwriter
Aidan Knight
, and
Kae Sun
, a Ghanaian-Canadian singer-songwriter. The festival will also include a special episode of CBC's
The Debaters
and
Q
host Jian Ghomeshi interviewing Of Monsters and Men. Tickets are available through CBC, Facebook, and Live Nation presales this Friday March 16 and through
Ticketmaster
starting on Saturday. May 25 is sort of an iffy time of the year for a outdoor show and you can only hope it doesn't rain that day. The lineup has the potential to draw a diverse cross-section of people - I don't particularly think the 'kids' will have much interest in this except for Of Monsters and Men, Sloan and Half Moon Run but then again you never know.
Facebook:
CBCmusic.ca
Twitter:
CBCmusic.ca