concert review
:
The Constantines
,
The Creeping Nobodies
,
Masia One
, part of the
Wavelength
fifth anniversary series @
Lee's Palace
(Toronto, Ontario), February 11, 2005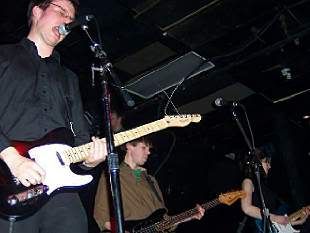 Well, I was thinking about the
Wavelength
show I went to last Friday at Lee's Palace and I thought it'd be only fair if I mention some things about the show. I won't bother commenting too much on
The Constantines
other than that they're one of the most consistently enjoyable bands to watch live that I can think of. A Constantines show is a wholely interactive affair. As usual with every Constantines show, there was the audience singalong of
"Can I Get A Witness??"
. I loved when the band got the crowd to raise their arms in their air and hold it there while the band did the same thing, gazing into the audience for a good 15 to 20 seconds before slipping back into the song they were performing. [
photos
]
Preceding The Constantines were several other acts of which I only caught the peformances of Masia One and The Creeping Nobodies.
Masia One
performed an enthusiastic set of hip-hop, funk influenced numbers, never shy to shake a little boot-ay! A short set overall, but she showed herself to be a competent MC. And she's from Mississauga! Represent! [
photos
]
The gems of the evening in my opinion were local Toronto act
The Creeping Nobodies
. Their name conjured images of possibly some murky, swampy, psychobilly act but that couldn't have been farther from the truth. Quite a 'nice' looking bunch of individuals, the band consisted of 3 young gents on lead vocals/guitar, bass guitar and drums and 2 young ladies on guitar and keyboards. Based on their appearance, I would have imagined their music something along the lines of
Stereolab
or melodic indiepop/indierock. So it was quite a surprise that their music was quite more abrasive than I expected, with nods to
The Fall
,
Clinic
and
Sonic Youth
. The lead singer was bubbling with spastic gestures and vocal inflections and at times guitar arrangements would boil over into Sonic Youth dissonance. I don't want to give the wrong impression that the music was all noise. On the contrary, there were tasteful keyboard, guitar, and bass guitar arrangements contributed to the fold along with great Nico-ish female vocals courtesy of the band's female guitarist. The crowd seemed to like them and for good reason. Good stuff. Watch out for them. The band has a few releases including a CD entitled
"Stop Movement Stop Loss"
(which I purchased at the show) which is released on
Blocks Recording Club
. Check out
some
mp3's
. (And I just realized that all
Blocks Recording Club
CD's have that cool funky origami-influenced CD packaging!) [
photos
]
The Organ
have announced a bunch of new Australian, American and Canadian tour dates. The gals will be back in Toronto at
The Phoenix Concert Theatre
on April 14th!
brooklynvegan
has links to the new video for
The Stills
'
"Love and Death"
which features a cameo by Emily Haines of
Metric
.
Ever since seeing Toronto band
The Two Koreas
open for
Metric
at
The Mod Club
last month, I've been itching to pick up a CD from the band. Unfortunately, I didn't see any merch for them at the Metric show.
SHOT
says that the band's released a CD now called
"Main Plates & Classic Pies"
. ...I'm just a sucker for
Mark E. Smith
-influenced vocals.