concert review
:
Ron Sexsmith
w/
Bob Wiseman
,
Jim Guthrie
,
The Heritage Theatre
(Brampton, Ontario), part of the
2005 Brampton Indie Arts Festival
, February 6, 2005
Although I was exhausted the evening before(after a day of skiing), I did muster enough strength the next evening to attend the closing evening of the
Brampton Indie Arts Festival
. I made it in time to catch a screening of a documentary called
"The 902"
which featured a profile of the Halifax hip hop scene, including appearances from three notable Halifax DJ's
Buck 65
,
Skratch Bastid
, and
DJ Jorun
. It was an insightful look at that Halifax scene and the film spoke of how early on in the 90's, major hip hop acts were being booked there but because of some bad promoters who
"took the money and ran"
, hip hop acts stopped choosing to come there. The vacuum that developed created an environment whereby Halifax developed its own hip hop scene where the spotlight was focused on its own local talent. The film takes us to the near present showing the evolution of the scene where local stars gain recognition, including Buck 65's jump to a major label and Skratch Bastid's experiences at the
Canadian DJ Championship
.
In between musical acts,
Scott Thompson
laughed it up with audience. He made some hilarious comments about 'poor' Buck 65. Scott twisted some of Buck 65's statements from the film(eg. Buck 65 said something along the lines of being on the road and missing human touch and Scott reinterpreted it as
"oh, poor Buck 65...no one'll touch his face"
) and mainly made fun of Buck 65 for complaining about being 'famous', although it was all in good fun. Just think if Buck 65 had made it to the festival. Now that would have been a moment. [
Scott Thompson photos
]
Jim Guthrie
came on next and performed as a three-piece with himself on guitar, and bandmates on bass guitar(Simon Osborne of
Royal City
) and drums. The only other time I've caught Jim Guthrie live is when he performed as The Jim Guthrie Band as part of the
Exclaim!
tour several years ago. That time the music was more fleshed out with strings and such, and a little more arty-rootsy. This time though, there seemed to be a lot more emphasis on melody, and in this live setting performing as a 3-piece, the music was a bit more stripped down and more direct. His own songs were quite lovely but he also performed a stirring rendition of a cover of a
Nina Simone
song called
"Ain't Got No / I Got Life"
, a studio recording of which can be found on the CD compilation
"Meanwhile in the Meantime"
which came with issue #16(Autumn 2004) of
Comes With A Smile
. There were some interesting choices of instrumentation with a bit of guitar distortion thrown in here and there, as well as some gently strummed ukele and light clapping from the audience for the last song. At the end of his set, Scott Thompson apologized to Jim for not knowing who he was and had the audience in stitches when he proceeded to rub his hands all over Jim's face, a knod to Scott's Buck 65 improv I wrote of above. :) [
photos
]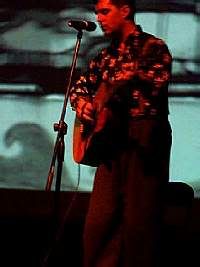 The multi-talented
Bob Wiseman
was up next. His set was more of a multimedia performance with the use of screen projections and short films. There was quite a bit of humour with the visuals which were at once whimsical and offbeat. Bob's role was really that of providing a soundtrack. At times, Bob's musical excursions were more like interludes rather than real songs. However, the real songs did eventually surface and Bob displayed a knack for some nice folk-pop melodies. It was just Bob up on the stage for most of the set providing his own musical accompaniement on a range of instruments including guitar, accordion, and keyboards. Later on in the set, he brought out Ron Sexsmith to accompany him on piano on
"Wednesday 8pm 300 Bloor St. West"
. I ended up purchasing after the show at the merch table, Bob's CD
"It's True"
(released on Toronto indie
Blocks Recording Club
) which thankfully included some of my favourite songs of the night including
"Uranium"
,
"Born To Love You"
and
"Wednesday 8pm 300 Bloor St. West"
. And the packaging(a sort of origami-influenced creation) is beautiful. [
photos
]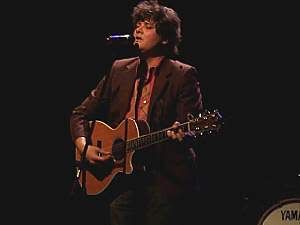 Ron Sexsmith
's appearance during Bob Wiseman's set whet our appetites. Other than
"Secret Heart"
and
"Strawberry Blond"
which are in fact very good songs and the only songs I knew previously, I was really not all that familiar with Ron Sexsmith's music. From the smatterings of applause during the introductions of certain songs, I could tell there were some loyal Ron Sexsmith fans out in the audience. Mr. Wiseman returned the favour to provide some piano accompanient on one of Ron's songs. However, primarily it was Ron himself on stage, providing exquisite guitar accompanient to his own gentle vocals. What I found appealing about his vocals was the imperfectness of it, how it would falter slightly around a melody at times. The songs themselves were generally in that singer-songwriter vein and the melodies were lovely and instrumentation varied enough that things were kept interesting.
"Secret Heart"
wasn't performed unfortunately but
"Strawberry Blond"
was and it sounded as sublime as I remembered it from the studio version. Mr. Sexsmith had a humble, self-deprecating wit about himself that just made you want to like him. Fortunately, he has the musical chops to bring it home. Lovely set indeed. So that was it. A nice close to the 2005 Brampton Indie Arts Festival. I think the only disappointment was that more people didn't come to check out the festival. The numbers were adequate but it didn't seem like they sold out. The upside was that at least I got good seats! It'll be interesting to see what the festival'll bring next year. [
photos
]