concert review
:
Cuff The Duke
, JOUST(
John Oswald
and Scott Thomson),
The Heritage Theatre
(Brampton, Ontario), part of the
2005 Brampton Indie Arts Festival
, February 4, 2005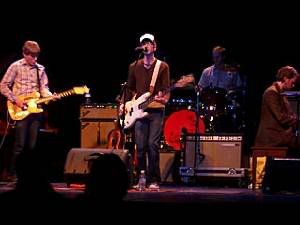 Another satisfying evening was had this past Friday at the
Brampton Indie Arts Festival
. I made it in time to catch a brief performance of
John Oswald
(saxophone) and Scott Thomson(trombone and NOT to be confused with Scott Thompson
The Kids In The Hall
who is also part of this year's festival, btw) performing as JOUST. With the stage shrouded in darknss and Mr. Oswald at the edge of the stage, Mr. Oswald began playing a series of seemingly random notes. Then Mr. Oswald and Mr. Thomson made their way towards two chairs at the centre of the stage and they began to perform. The instrumental piece they performed had a sort of ebb and flow structure whereby one musician's arrangements melded into the other's than back. Their music was strictly in the realm of avant-garde jazz, and while not necessarily my cup of tea, it was interesting to hear. At one point in the performance, spectactors caught a glance of a bat that had gotten into the theatre and was flying around in circles. Funny at first to see, especially when festival organizer Friendly Rich ran to the stage and tried to shoo the bat away with his jacket. Undeterred by the bat, John and Scott continued without pause with their performance. Scott, continuing to play his trombone, even stood up and pointed his trombone towards the direction of the bat in attempt to shoo the bat away. It seems the bat eventually took shelter up in the rafters of the theatre which was thankful because that bat was flying awfully low at one point and damn, if I didn't want that thing coming at me.
The headliners of the evening were Oshawa band
Cuff The Duke
. I first saw the band several years ago when they opened for
Versus
at the
Horseshoe
in Toronto. I didn't catch their name that first time and only realized who they were when they turned up on
Three Gut Records
. Seeing them play this time, I see they've evolved from their initial country twanginess. In certain respects, within the context of the
Three Gut
family, Cuff The Duke seemed like a comfortable middle ground between the arty rock of
The Constantines
and the folkiness of
Royal City
. For a band that looked quite young, they displayed a spectrum of musical influences that I wouldn't necessarily have expected. They started off their set with a slow brooding art-prog-rock number that reminded me of
Pink Floyd
and
Radiohead
. The slight twang-inflected vocals were great. Later on the lead vocalist took reigns of the keyboard for a more upbeat tune which had a nice
Ben Folds
bouce to it. The folky, country twang numbers were favourites of mine, with some cool punchy bass lines which had an outlaw country and western feel. The bass guitarist also displayed a talent for some nice keyboard arrangements. The drumming was respectable yet energetic as were the guitar skills of the lead guitarist. Towards the end of the set, the lead guitarist pulled out the violin bow to play his guitar a la Jimmy Page. What everything came down to was the strength of the songs. Nice melodies all around and interesting musical arrangements to boot. When the band commented that we were quiet, I hope they didn't take it as disinterest. It was quite the opposite in fact, and I saw the quietness of the crowd more a sign of politeness. As with
The Rheostatics
the day before, I'm just happy that Cuff The Duke made the trip to our 905 area code, neck o' the woods. [
photos from the show
]