concert review
:
Caribou
,
The Battleship, Ethel
@
Rivoli
(Toronto, Ontario), September 30, 2007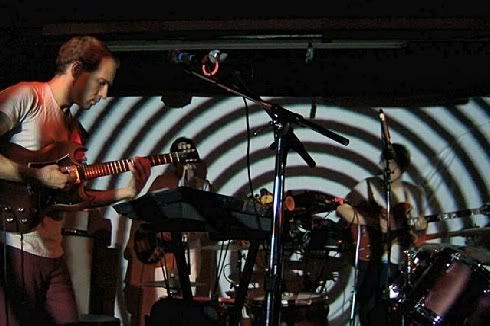 Last Sunday Caribou played a 'secret' sold-out show at the intimate Rivoli club as the precursor to the North American & UK tour that's set to hit full steam this month into next.
I first saw Caribou live
when they opened for
Super Furry Animals
at the Phoenix in 2005. As with that performance, I can't say I'm entirely converted. There's much to admire with Caribou's music - alternating swirling/sparkling guitars, psychedelic pop melodies, miasmic falsetto vocals, colourful electronica backing tracks, and tight drumwork. What I've heard of Caribou's newest album "Andorra" is quite good and really what I'd hope for during his show. I think Caribou succeeds mostly when he adheres to the less-is-more trajectory, that is when one musical component doesn't overshadow another. However, much of Caribou's set last week placed focus on the double drumkit set-up, especially emphasized during some of Caribou's instrumental tracks, whereby Caribou's Dan Snaith joins his drummer in a dual drumkit assault that while invigorating for a couple of tracks, to me became a little tiresome after a while. If I had to choose, I wish he'd leave those drum assaults to close out the set and or the encore. Drummer Brad Weber's drumming was fantastic on his own which I thought deserved special mention.
I only caught a few songs from openers The Battleship, Ethel, but in one word they were LOUD. They reminded me a little of
Rick White
's
Elevator
if that's your thing. Remember to bring your earplugs.
More of my photos from the show over at
Flickr
.
MySpace
:
Caribou
MySpace
:
The Battleship, Ethel
Before heading to the UK, Caribou, with openers
Born Ruffians
, return to Toronto for a show at The Opera House on November 10.