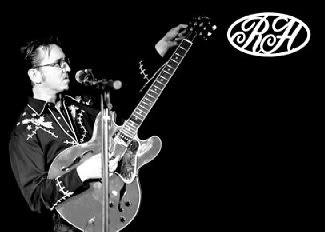 Brit artist/producer/crooner
Richard Hawley
comes to these shores for a show in Toronto at the Horseshoe on December 5, as part of the venue's 60th Birthday festivities. Tickets $15.50. Mr. Hawley's been getting a lot of exposure lately. There's a
video clip
of Mr. Hawley performing / being interviewed in BBC 6 Music's studios recently. Mr. Hawley is also
Magnet Magazine
's featured artist.
Brooklyn Vegan
's gathered up some Hawley-related video. The one-time
Pulp
guitarist was never on my radar because I was never a huge Pulp fan but his production skills on
A Girl Called Eddy
's album a few years back was a thing of beauty. From what I've heard of Mr. Hawley's output he treks a similar sort of melancholy and spaciousness(albeit with a more rockabilly / Roy Orbison-esque touch) that's striking.
YouTube
:
Richard Hawley - "Tonight The Streets Are Ours" (music video)
Stream
:
Richard Hawley - "Lady Bridge" (album)
MySpace
:
Richard Hawley
Robyn Hitchcock
returns to Toronto for a show at The Mod Club on November 14, tickets $15.50. He performed an acoustic live session for
BBC 6 Music's Gideon Coe
this past Tuesday October 16/07. Listen
here
(session is about 1 hour and 40 min into the program and program is only archived for about a week after the original broadcast date).
i(heart)music
alludes to the likelihood of Toronto's
Laura Barrett
being
Paper Bag Records'
most recent signee as she appears on the label's most recent CD sampler. Good news if it's true. She's at Buddies in Bad Times Theatre on Oct 31 as part of "Hysteria: a Festival of Women" and then joins
The Acorn
and
Bruce Peninsula
at Horseshoe Tavern on November 24.
Edge 102.1 Dave Bookman's Nu Music Nite at the orseshoe Tavern coming up this October 23 already featuring Vancouver new-wave poppers
Bella
and Toronto's
The Disraelis
just go better with the addition of Japan's
The Zoobombs
. Not to be missed. [via
Stille Post
]
The New Pornographers
show at Phoenix yesterday was great. I hope to get a review of the show by tomorrow but in the meantime check out the live session the band performed for
MPR The Current
on October 17, 2007.
The Most Serene Republic
will be performing live on
MTV Live
tomorrow(October 23).
Brit folk-tronica act
Tuung
who are going to be at the Horseshoe on October 28 will also be performing an instore at
Soundscapes
record store earlier in the day at 4 pm.
Soundscapes
gets into interview mode with
The Besnard Lakes
.