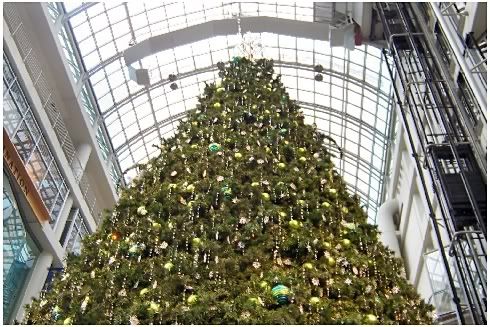 The image of the Christmas Tree at the Eaton Centre above is a lot nicer than what a lot of GTA'ers woke up to this morning. I know a lot of people wanted a white Christmas
but this is ridiculous
.
So to rub salt in to the wound, I thought I'd remind you of a couple of winter outdoor shows coming up in the new year. As part of the
WinterCity Festival
coming to Toronto from January 25 to February 7 of '08, Nathan Phillips Square will be hosting a couple of
free concerts
: as you might already know,
Tokyo Police Club
come to the Square on Saturday, January 26(8:45 - 10 pm) and I just found out that
The Weakerthans
will be there on Saturday, February 2(8:45 - 10 pm). I didn't make it to
The Golden Dogs
/
In-Flight Safety
show at Nathan Phillips Square yesterday - damn, I should have went because compared to today's weather, yesterday was a cakewalk.
Thanks to John Sakamoto and his
Anti-Hit List
for pointing me towards Swedish pop gal
Sally Shapiro
's
MySpace
and her piano mix of her modern Christmas indiepop classic "Anorak Christmas". Reminds me, where could I buy an anorak like
this
?