concert review
:
Cuff The Duke
,
Land Of Talk
@
The Mod Club
(Toronto, Ontario), November 30, 2007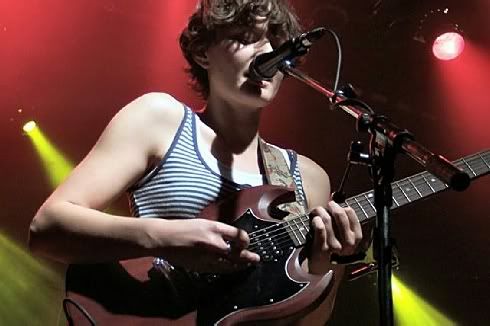 On a snowy Friday evening over a week ago[on November 30], Oshawa's Cuff The Duke played a CD release show at The Mod Club for their newly released album "Sidelines of The City"[Hardwood Records], and if that show was any indication, then their subsequent hometown two-night stint at The Velvet Elvis must have been barn-burners. Cuff The Duke's Wayne Petti(Guitar, Lead Vocals, Moog, Bass) and Paul Lowman(bass guitar, piano, fiddle, vocals) are the sole original members with new members Dale Murray(Guitar, Pedal Steel, Vocals) and Corey Wood(Drums, Percussion) now joining the fold. It's almost hard to believe that this at-one-time-unknown band who'd I first seen in 2003 at the Horseshoe Tavern(opening for
Versus
) are now onto their third album and playing to quite-devoted fans. I've been largely ignorant of their debut release(save for their song
"Ballad Of A Lonely Construction Worker"
) and their new album "Sidelines Of The City" but was quite taken with their eponymous-titled second album when it first came out, an equal parts reflection of their country-roots and pop influences. From what I've heard from the new album, the pop-rock influences are more to the forefront and from their show at The Mod Club, the band's as tight as ever. Opening up the show were Montreal trio Land of Talk who for one reason or another I had not seen live up till then, although had really been wanting to see live for a long time. As visceral as their melodic pop rock sounds on record, my impression of the band bashing away was not entirely a correct one - perhaps it's true in relation to the drummer and partially to the bassist, but vocalist/guitarist Elizabeth Powell seemed slightly more reserved than I expected, almost cradling her guitar, although the amplification of her raspy voice and meaty guitar arrangements was more than enough to compensate. The "Applause Cheer Boo Hiss" tunes were fantastic. I think the band played a few new songs, not as immediately grabbing, but hopefully more of a sign of my unfamiliarity of them.
Wayne was as appreciative as could be for the large, devoted(though not sold out) turn out, raising his drink to the crowd. As he did at the HMV instore a few days prior, he gave props to his hometown, in particular with introduction to new song "Rossland Square", the neighbourhood where he grew up. In slight consolation to my disappointment for not getting tickets to the recent
Neil Young
Massey Hall shows, Cuff The Duke(who coincidentally will be at Massey Hall opening up for
Blue Rodeo
this coming February) showed their prowess in Crazy Horse-esque like guitar freakouts with which I believe was their new song "By Winter's End". Guitarist Dale Murray was really a standout, effortlessly making the transition between lead and pedal steel guitar, as natural of a musician that you could swear that he'd been part of the band since the beginning. As their eponymous-titled second album was really their breakout, it was those album's songs, mid-to-up-tempo footstompers like "The Future Hangs", "Take My Money And Run", and "Belgium Or Peru", which seemed to connect with the audience the most. On more than one occassion, I think I heard someone yell out "Ballad"(in reference to their song "Ballad Of A Lonely Construction Worker") so when it came up during the encore(especially with it's phrase "Everything will be alright, will be alright...) it was to an appreciative response. And what seems to be the indie-rock cover du jour,
The Travelling Wilburys
' "Handle With Care"[I've heard
Jenn Grant
, and
Jenny Lewis
cover this tune], Cuff The Duke brought up openers Land of Talk for a rousing rendition of the song(I didn't know it at the time but Wayne had the
lyrics scribbled on paper
just in case). The encore and the night ended off as Wayne invited audience members to come on to the stage as each band member was given the spotlight to display his musical prowess, and when bassist Paul Lowman picked up a guitar and solo'd the heck out of it it was just one of many moments you realize just how talented these guys are.
Here are more of
my photos from the show
.
Also, I have
photos from the band's instore at HMV(on November 28)
.
MySpace
:
Cuff The Duke
MySpace
:
Land Of Talk