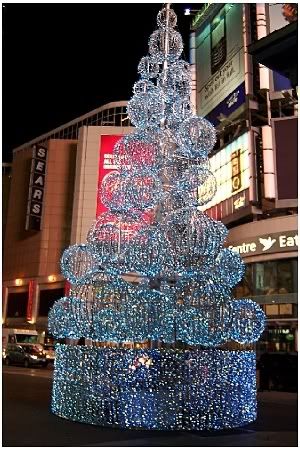 As I walk/drive/ride the streetcar around Toronto, I realize how many Christmas lights and decorations are up this year. Do yourself a favour and get yourself downtown to check it out. The Christmas lights down Yonge St. between College St. and Queen St. are in particular really nice. So is the tree above at Yonge Dundas Square. And really, I need all the help I can get to keep from Christmas Day sneaking up on me. Who hasn't started their shopping yet? I haven't.
And what's Christmas(for better or worse) if not for the music? East-coaster
Jenn Grant
has some Christmas tunes("Have Yourself A Merry Little Christmas", "O Holy Night", "Silver Bells") streaming over at her
MySpace
. What a lovely way to get you into the holiday mood(though it would have been even better if she could make the mp3's available - pretty please, Jenn?). Jenn's back in town for a post-Christmas/pre-New Year gig at The Drake Lounge on December 28.