concert review
:
Mates of State
,
Judgement Day
@
Lee's Palace
(Toronto, Ontario), August 4, 2008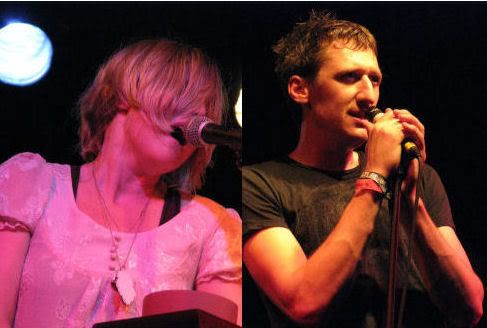 On first impressions, the pairing of 'self-proclaimed' string-metal trio Judgement Day with the rambunctious keyboards/drums indiep pop of Mates of State would seem like an odd combination. Ok, maybe the only time the pairing made sense was when the string section(violin/viola) of Judgement Day joined in on Mates of States' set to augment their tunes. So, I guess the final answer, is yes it was an odd pairing, but nonetheless they were both entertaining.
While heavy metal's never been my thing, the instrumental violin/viola/drums assault of Judgement Day provided an avenue into that genre that I could actually get into. When I went to the
Sasquatch
festival a few years ago, I believe it was before Nine Inch Nails' set that they were spinning some inbetween set tunes including a string-quartet version of
Metallica
's 'One' (possibly
this
) which actually rocked. Judgement Day remind me of that though perhaps whatever level of gimickry you might want to place on them is lessened somewhat since they perform their own songs. While the Judgement Day string section is obviously a big part of their sound, the drums were as equally important, especially during the band's pulverizing sonic assaults. The what-would-have-been guitar parts seemed to be delegated with viola taking over the riffage and the violin providing the lead. The tunes were varied enough that each stood on its own without the set ever sounding same-y. It was a great set overall and myself and the crowd enjoyed it, and I wouldn't have been surprised if there'd had been a few devil signs being waved in approval.
A Monday night isn't my favourite night for a show but with the night off to a good start with Judgement Day and then Lee's Palace thankfully filling in quickly for Mates of State, it'd seem it would be a great night afterall. I saw the duo
back in September 2006 at the same venue
, and I described that Saturday night gig's response from the crowd as electrifying. This time it was a Monday night show which might explain the more muted energy of the crowd. Working their most recent album "Re-Arrange Us" [I hadn't heard any of these tunes before this] as well as songs from their last album "Bring It Back", and maybe a few older ones[sorry I'm not that familiar with their catalogue], it did manage to convince me that maybe I should revisit their albums more than I do. There were the sparkingly melodies, lovely girl/boy vocal interplay, and musical arrangements in keyboards and drums that were convincing enough to make one think that other instruments weren't necessary. Though surprisingly, when the Judgement Day string section joined in to add some strings, guitar and or trombone, it actually made Mates of State sound even better. I found myself head-bobbing/leg-shaking (I guess as most GTA'ers do) to quite a few of their tunes, though really not as enthusiastically as a couple of gals at the front of the stage who seemed to be pogoing and or waving their arms for most of the show. It was more than a great way to end the civic holiday and long weekend.
Photos
:
Mates of State, Judgement Day @ Lee's Palace (August 4, 2008)
MySpace
:
Judgement Day
MySpace
:
Mates of State