concert review
:
Festival of Friends
(w/
Steve Earle
,
Allison Moorer
,
Danny Michel
) @
Gage Park
(Hamilton, Ontario), August 8, 2008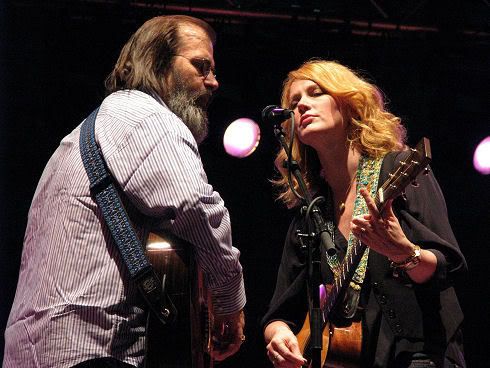 What apparently is one of Canada's oldest music festivals(and a free one at that), Hamilton, Ontario's 3 day Festival of Friends was kicked off last Friday night. Though the majority of the lineup wasn't necessarily my thing (eg. Air Supply headlined the second night), the festival did have the fortitude in getting Steve Earle to headline the first night, with his wife Allison Moorer warming things up with her own set, and topping things off talented Canadian singer-songwriter Danny Michel kicked off the primetime schedule.
What Waterloo, ON native Danny Michel proved to the sparse audience on hand for his early evening set was that he is a consummate performer exuding humour and charm with his witty banter and also having musical chops both as a guitar player and a lyricist. Songs like "Feather Fur and Fin" showed Danny's adeptedness in writing lyrics that just flowed so well with its melodies while a song like "If Gods On Your Side" took a political stance, all the more emotionally resonating during Danny's stark acoustic performance of it. Most of the set however showed Danny
s more sunny, playful side and there was a certain storytelling quality to his lyrics which no doubt made sense of Danny's participation in touring with Stuart McLean's The Vinyl Cafe tour. As a musician he played guitar, creating a robust sound in his picked or strummed techniques, even skillfully reproducing sound effects like a seagull during one song.
Ushering in nightfall, Allison Moorer performed a solo set playing guitar although the most distinguishing element was definitely her soulful vocals. What Allison did successfully was merge elements of pop, country, soul and folk, in a way that it would not do her justice to label her any of these genres singurlarly. Perhaps the loveliest moment was the stark sombre beauty of her performance title track of her most recent album "Mockingbird". She pulled out a couple of cover songs including a soulful take on Rollings Stones' "Sweet Virginia" as well as a duet with hubby Steve on hippie classic "Where Have All The Flowers Gone" which she mentioned that she and Steve will continue to perform as long as US soldiers are still in Iraq, a motivation that forced us to forget the song's ridiculous hippie associations and realize the song's honourable sentiment.
Continuing the evening's lineup of great solo performances, a gruff, bearded Steve Earle took the stage to an enthusiastic response. I'm not really up on my Steve Earle but he seemed to play a mix of his country-rockers, love songs, experimental folk-beat tunes(including a DJ to provide the beats) and some political stuff. Steve had an arsenal of guitars, plus a banjo and mandolin which he continued to switch between throughout the evening. The crowd at this point had swelled to fill the festival grounds in front of the stage and with the family crowd onhand it didn't hold back Steve from throwing out a 'fuck' when he needed to like when a couple of baffoons in front of the stage seemed to almost get into a fight. Steve was also not afraid to express his opinion the US election/politics such as his comments on the North American Free Trade Agreement is only such(ie. no barriers for trade between the US and Cananda) until they find one 'mad' cow in Alberta then ban Canadian beef from crossing the US border - that sent the crowd roaring. Preceding his performance of "City of Immigrants" commented on his pro-immigration stance and that we as voters should be very suspicious when immigration becomes a political issue as its done to distract more than anything else. Such stances seemed to go over well with the audience though it does make me ponder what the reaction would be across the US audiences. Overall, I do appreciate the honesty and integrity that Steve Earle brought to his performance. It's all the more surprising that it was Canadian country radio station The New Country 95.3 sponsored the event. Although if Steve Earle is considered the 'new country', I'll happily go along. If love songs were more your thing, Steve did invite wife Allison up for a lovely performance of "Days Aren't Long Enough". Ok, so maybe he is a softie.
Photos
:
Danny Michel, Allison Moorer & Steve Earle @ Festival of Friends - Gage Park - Hamilton, ON (August 8, 2008)
Check out a review and photos over at
It's Not The Band I Hate...
.
MySpace
:
Danny Michel
MySpace
:
Allison Moorer
MySpace
:
Steve Earle